Picking a Good Golf Bag Accessory Pouch
A good golf accessory bag can save you time and free you to focus on the pitch. Don't neglect this important and overlooked part of your gear.
A golfer's main purchasing concern is their clubs first and foremost, followed by the necessities to take care of those clubs, like a caddie bag. While these are obviously important, an often overlooked yet critical part of a golfer's gear is their accessory bag. Maybe you can get away with stuffing a few things in your pockets, but this is a big time-wasting shortcut rather than an advantage. Making the most of your game time means being organized, and good accessory bags are the perfect tool for this. Inexpensive, convenient, and purpose driven, an accessory pouch will free up plenty of time and focus to do what you came to do on the pitch: play golf.

With that out of the way, let's get into the main contenders.
#1
Titleist Travel Gear Professional Zippered Golf Pouch
A perfectly classy and to the point bag from one of Golf's biggest names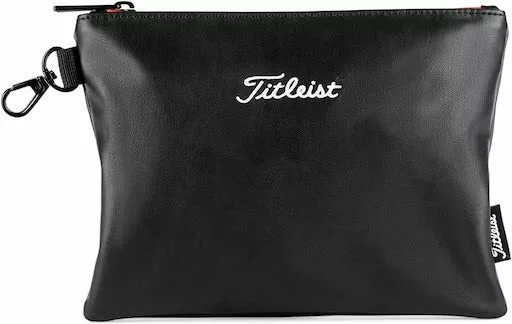 Straight away, this is basically the perfect accessory pouch. It's small enough to be easy to carry but big enough to be organized into 3 sections. Titleist is of course a well-respected brand, and I like to use these as prizes for competitions since everyone loves them.
Brand

Titleist

Color

Black

Material

Nylon

Dimensions

15.5 x 10 x 2 inches
Check Current Price
#2
Titleist Travel Gear Professional Valuables Golf Pouch
Convenient design makes it easy for both transportation and use since you can put it down anywhere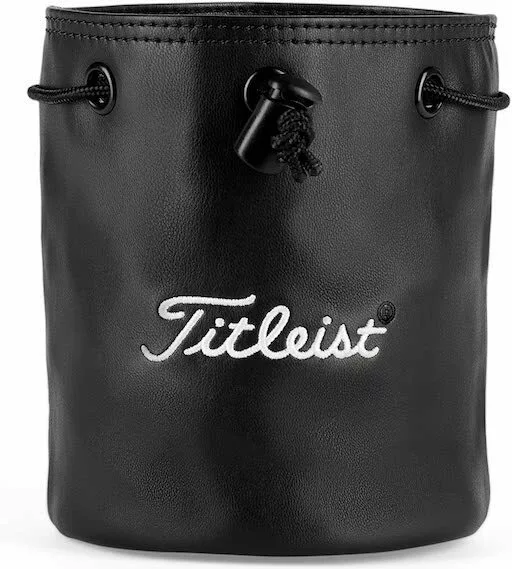 Another banger from Titleist, this is my favorite pouch due to the convenience of the pinch and cinch closure and because you can prop it up easily on the ground. The main difference between this and our number one pick is that this is ever so slightly harder to transport.
Brand

Titleist

Color

Black

Material

Nylon

Dimensions

15.5 x 10 x 2 inches
Check Current Price
#3
HOW TRUE Three-Piece Golf Pouch Bag Set
The best bang for your buck and perfect for people who really like things seperated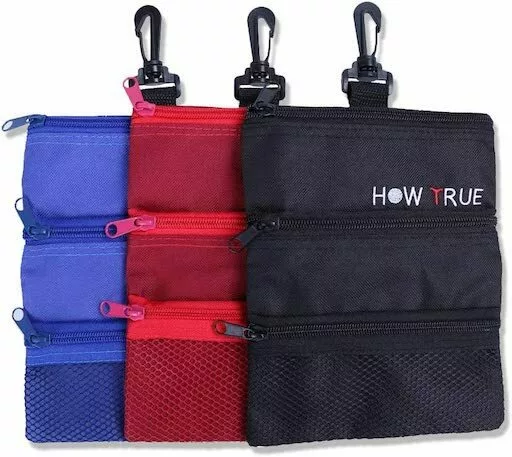 This one is for the TRULY organized players out there. A bundle of three, these awesome hooked pouches give you a ton of flexibility for dividing your gear however you like. I like to keep one on my waist with my tees when practicing, leave another on the cart with my valuables, and either keep the extra in reserve or clip it to my tee bag.
Brand

HOW TRUE

Color

Black, Red, Blue*

Material

Nylon

Dimensions

6.89" X 11"*
Check Current Price
#BONUS
Ahead WGD Valuables Pouch
The perfect gift for the days when your significant other joins you on the pitch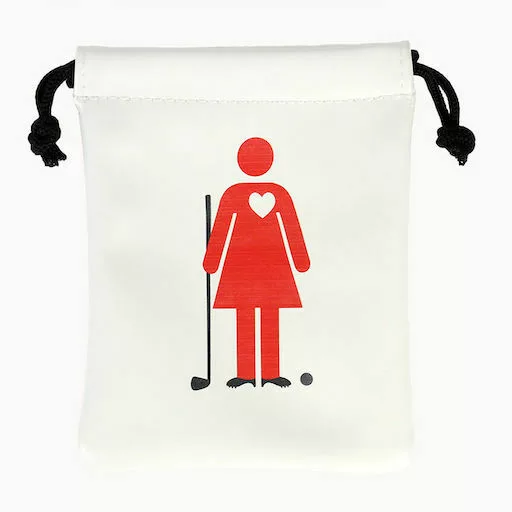 This one is a no-brainer when you want to show your special lady some appreciation for playing with you on the green. Don't be fooled by the price - it's fleece-lined and top-notch quality, and of course above all, it's stylish as all get-out with its simple and cute design.
Brand

Ahead

Color

White

Material

100% Polyester
Check Current Price
Conclusion
And there you have it! Having used these on the pitch, I tend to lean towards the Travel Gear Professional bag for its ease of use, but these are all high quality bags that will both get the job done and hold up to typical wear-and-tear.

More about you might also like: