How Long Does It Take to Golf 18 Holes?
Find out how long it takes to golf 18 holes and learn strategies to improve your pace for a smoother round.
by Jake Tingey & Judd Lyon · Updated: 5/28/23
Jake Tingey, Golf Expert
Jake is a lifelong golfer who loves keeping up with the latest golf news and equipment.
Judd Lyon, Web Developer
Judd is the tech guy behind Front Nine Golf with a huge slice.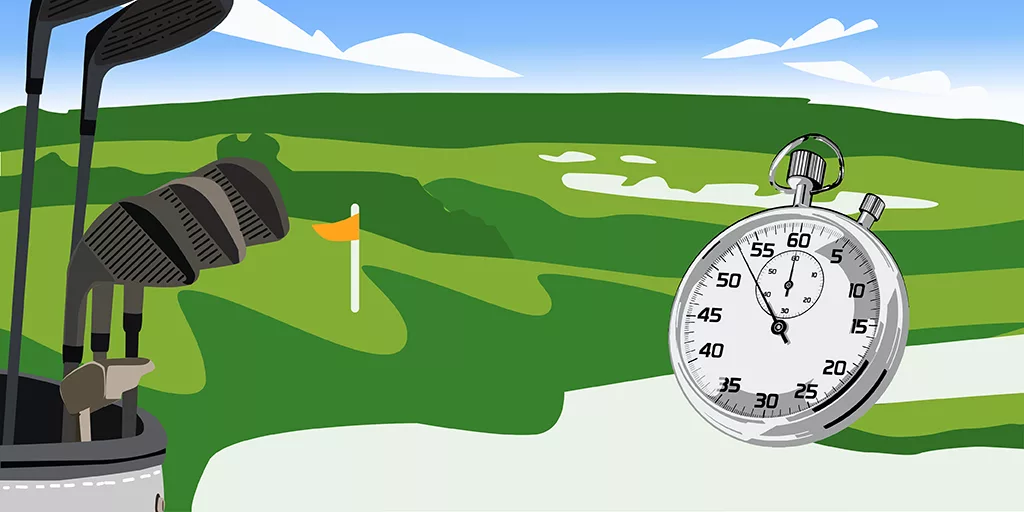 How long does it take to golf 18 holes?
Typically, an 18-hole round of golf takes between 4 to 4.5 hours to complete. However, this can vary significantly based on skill level, course difficulty, and the number of players. For beginners, a round can extend up to 6 hours, whereas advanced players may complete the same in less than 3 hours.

A game of golf is typically played on an 18-hole course, offering a mix of challenges and landscapes that test a golfer's skill and strategic thinking. Completing a round can be a leisurely experience or a test of efficiency, depending on various factors that influence the overall duration. In this article, we'll explore these factors and provide insights into how long it takes to golf 18 holes.
Average Duration of an 18-Hole Round
The time it takes to complete an 18-hole round of golf can vary significantly based on a player's skill level. A round may take anywhere from 4.5 to 6 hours for beginners, while more experienced players can often finish within 3.5 to 4.5 hours. Golfers with advanced skills and a faster pace can sometimes complete a round in under 3 hours.
| Skill Level | Estimated Time to Complete 18 Holes |
| --- | --- |
| Beginner | 4.5 to 6 hours |
| Intermediate | 3.5 to 4.5 hours |
| Advanced | Under 3 hours |
Pace of play guidelines
Many golf courses establish pace of play guidelines to help maintain a steady flow and minimize wait times on the course. These guidelines typically recommend an average time per hole, such as 12-15 minutes for par-3 holes, 15-18 minutes for par-4 holes, and 18-21 minutes for par-5 holes. Based on these guidelines, an 18-hole round should take approximately 4 to 4.5 hours to complete.
| Hole Type | Recommended Time per Hole |
| --- | --- |
| Par-3 | 12-15 minutes |
| Par-4 | 15-18 minutes |
| Par-5 | 18-21 minutes |
Factors Influencing Round Duration
Course difficulty and design: The design and difficulty of a golf course play a significant role in the time it takes to complete a round. Courses with more hazards, elevation changes, or longer distances between holes can increase the time spent navigating and executing shots, leading to a longer overall duration.
Golfer skill level and experience: A player's skill level and experience also impact the time it takes to complete 18 holes. Less experienced golfers may take more time selecting clubs, addressing the ball, and making decisions, while skilled players can quickly assess situations and execute shots.
Number of players in a group: The size of a playing group can greatly influence the duration of a round. Golfers playing in larger groups (e.g., foursomes) often take longer to complete a round than those playing in smaller groups or individually, as each player requires time to complete their shots and move between holes.
Weather conditions: Weather conditions can also affect the duration of a round. Adverse weather, such as rain, wind, or extreme temperatures, may slow down play as golfers adjust their shots, clean equipment, or seek shelter during a downpour.
Course congestion and tee time intervals: The level of congestion on a golf course and the intervals between tee times can also impact the time it takes to complete a round. When a course is crowded or tee times are scheduled too closely together, players may experience delays waiting for the group ahead to finish a hole before they can tee off. This can significantly slow the pace of play, leading to longer overall round durations. On the other hand, courses with well-spaced tee times and efficient management of player traffic can help maintain a smoother flow and reduce delays.
Tips for Speeding Up Play
Being ready to play when it's your turn: one way to speed up play is to be ready to hit your shot when it's your turn. Prepare by selecting your club, assessing the wind and terrain, and visualizing your shot while others are playing. This helps minimize delays and keeps the game moving at a steady pace.
Efficiently planning shots: planning your shots efficiently can save time on the course. Think ahead about your next shot while approaching your ball, and consider the risk and reward of each option. This strategic thinking can lead to quicker decisions and more efficient play.
Keeping up with the group ahead: staying aware of the group ahead and maintaining a reasonable pace can help speed up play. Make an effort to keep up with their progress, and be prepared to hit your shot when the group ahead has moved out of range. This helps maintain a steady flow of play across the entire course.
Using golf carts or walking strategically: whether using a golf cart or walking the course, move strategically to save time. Park the cart near the next tee or walk directly to your ball to minimize time spent walking back and forth. When sharing a cart, both players can plan their shots and club selections while the other is hitting, helping to maintain a brisk pace.
Optimize your time on the course
Various factors, such as course difficulty, golfer skill level, group size, weather conditions, and course congestion, contribute to the time it takes to complete an 18-hole round of golf. By understanding these factors and implementing strategies to speed up play, golfers can optimize their time on the course without sacrificing enjoyment.
Remember to appreciate the beauty of the game and the camaraderie of your fellow players while maintaining a reasonable pace to ensure a great experience for everyone on the course.