The Best Putters for Beginners
Our picks for the most forgiving and stable putters from leading brands
There is no better way to explain how important a putter is than by these two quotes by some of the best golfers:
"The only club in the bag specifically designed to get the ball in the cup is the putter. Why not learn it first?" Jackie Burke Jr.
"You can always recover from a bad drive, but there's no recovery from a bad putt" Jimmy Demaret
A putter is the most important and the most used golf club. In professional golf, putting makes between 40% to 50% of the game. However, picking a putter is daunting. First, there are tens if not hundreds of models from different brands. All of these models claim to be the most forgiving, stable, and accurate, which is not always the case. Secondly, there are many factors to consider, including the type of blade, length, handle, etc.
In this post, we have done the hard work for you. We have scoured the market to find putters that are great for beginners but more importantly, models that will grow with you as you hone your game, which means that you won't need to upgrade the putter after a few months of use.
With that out of the way, let's get putting.
#1
Odyssey White Hot OG Putter
Our top pick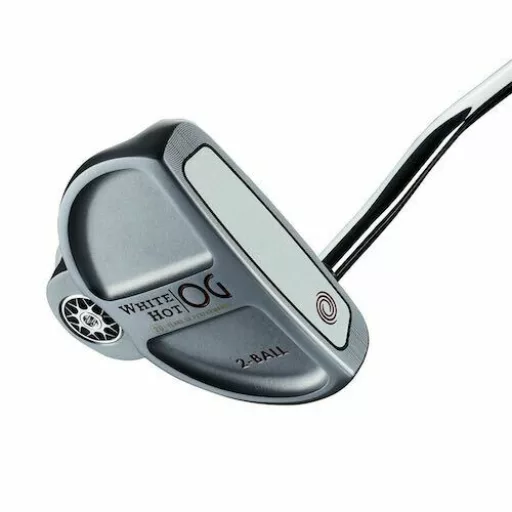 The Odyssey White Hot OG 2 Ball Putter is our pick for the best putter for beginners. The 2 Ball is one of the 12 styles in the Hot Ball series. The most notable thing about this putter is its history. It combines the original 2001 2-Ball putter design and features the most popular and most decorated insert of all time, the White Hot.
Head

Mallet

Blade type

Face Balanced

Hand

RH / LH

Length

33", 34", 35"

Shaft

Steel and Stroke Lab

Grip

White Hot Pistol Or Oversize
This mallet putter features two discs on the head that mimics two golf balls. These discs are not just for aesthetics; they also serve as an alignment aid. The discs should align when placed behind a golf ball, creating an illusion of 3 golf balls aligned. This makes alignment easier for every player, especially beginners.
The second unique aspect of the Odyssey White Hot 2-Ball OG Putter is that it features the White Hot Insert. The insert made a debut two decades ago, and despite many other inserts coming later, the White Hot insert has remained a favorite for most tour players. The insert now makes a comeback and is made of the exact composition used. While the insert feels a bit firm, it performs like a soft material on impact.
Check Current Price
#2
Cobra King 3D Printed Agera Putter
One of the highest MOI putters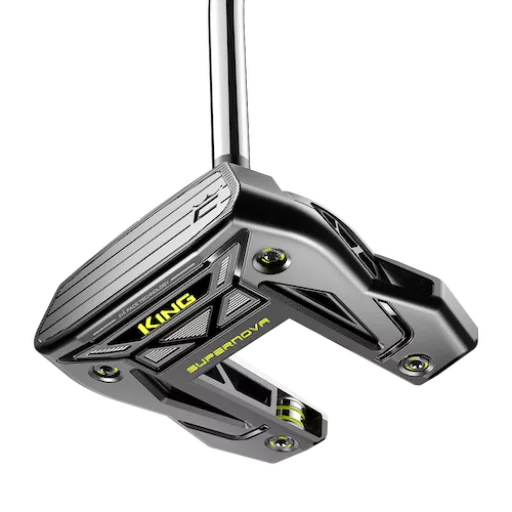 Cobra refers to the 3D printed Agera putter as their most stable and forgiving putter, which is what makes a putter, beginner-friendly. The putter's high MOI of 7540 makes sure that your off-center hits end up close to the hole. The putter's high accuracy and increased stability make it great for high handicappers.
Head

Mallet

Blade type

Face Balanced

Hand

RH

Length

34", 35" and 37.5"

Shaft

KBS CT Tour Steel

Grip

Cobra Lamkin SINKFIT Straight Connect (99g)
While it's not one of the prettiest putters, the Cobra King 3D Printed Agera Putter is one of the most sophisticated and most technologically advanced putters. Cobra partnered with HP and SIK Golf in making this putter. The putter's multi-material construction comprises 3D printed lattice cartridge, steel chassis, tungsten weights, and forged aluminum crown. The putter is surprisingly lightweight despite the large head and feels solid and stable.
The putter has a smart grip that has a sensor that connects to an app that you install on any smart device to access key data.
Check Current Price
A modern mallet putter
Taylormade Spider Tour #3 Putter
#3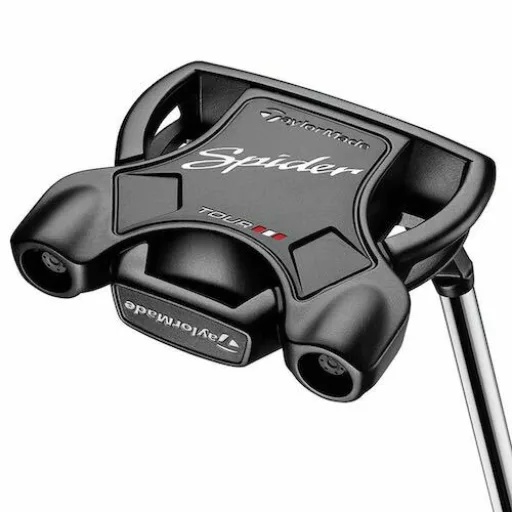 Another high MOI putter that every beginner golf player will love is the Taylormade Spider Tour Black #3 Putter. Note, there is also a Red #3 version that looks exactly like the black version, they have different inserts. For this review, we are focusing on the black version.
Head

Mallet

Blade type

Face Balanced

Hand

RH / LH

Length

34" and 35"

Shaft

CHROME STEEL SHAFT

Grip

SUPERSTROKE GTR 1.0
The Taylormade Spider Tour Black #3 Putter is designed to help players get tour-proven performance when putting. It features the Pure Roll™ insert that has been used by tour players including Dustin Johnson, Jason Day, and Rory McIlroy. Its multi-material design comprises of stainless steel frame, lightweight aluminum core, and PU vibration dampening foam.
The result is a high MOI and highly stable and forgiving putter that will help you drain more putts. It does however lack the sightline of similar competing putters.
Check Current Price
#4
MAZEL Tour GS Men's Golf Putter
Budget-Friendly Putter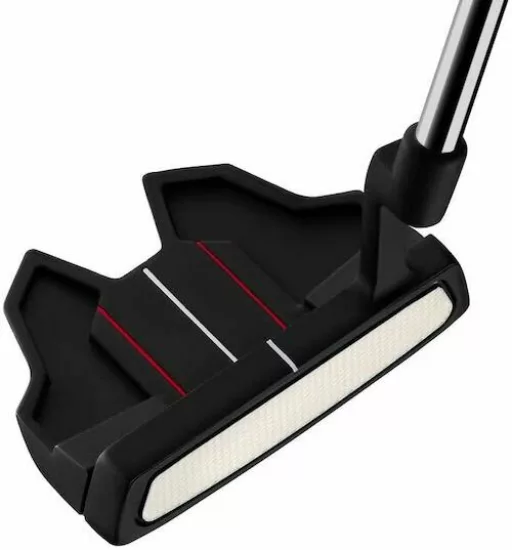 If you are looking for a budget-friendly beginner putter under $100, you should check out the MAZEL Tour GS Golf Bat Putter. While this is not a putter you will find being used on major Tour, it has every characteristic of high performing putter.
Head

Mallet

Blade type

Face balanced

Hand

Right

Length

34" and 35"

Shaft

Alloy Steel

Grip

Black & Blue grip
The Mazel Bat Putter features advanced alignment lines to help you align the ball properly to avoid off-center hits. Luckily, even if you make a poor hit, this putter is not very punishing. The CNC milled face insures players improved stability and better stability.
The grip is black and blue and is made of rubber, while designed to offer a firm feel with excellent sweat and shock absorption when on the course.
Check Current Price
#5
Odyssey White Hot Pro 2.0 Putter
Budget-Friendly Odyssey Putter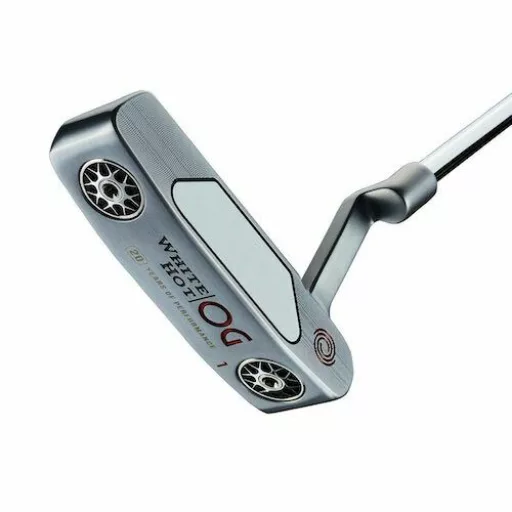 Unlike our first putter, which does not favor budget-conscious players who'd want to use an Odyssey putter, the Odyssey White Hot Pro 2.0 gives you the chance to enjoy and feel the best selling and highly decorated White Hot insert. This insert has been used, tested, and won on major Tours with some of the best players.
Head

Mallet

Blade type

Face Balanced

Hand

RH / LH

Length

33", 34" and 35"

Shaft

Alloy Steel

Grip

Standard Odyssey Rubber grip
The White Hot Pro 2.0 is available in four head styles, and all of them are beginner-friendly, except #1, Rossie, #5, and V-line versions are a bit similar. All versions are available with either Jumbo or standard grip.
The White Hot Pro 2.0 features the EyeFit system that helps players accurately pick the right head shape for them without guessing. Other features that we love in this putter include the heel/toe weight placement and contrasting alignment aid.
Check Current Price
#6
Odyssey Red Ball Putter
Best Putter for Improving Alignment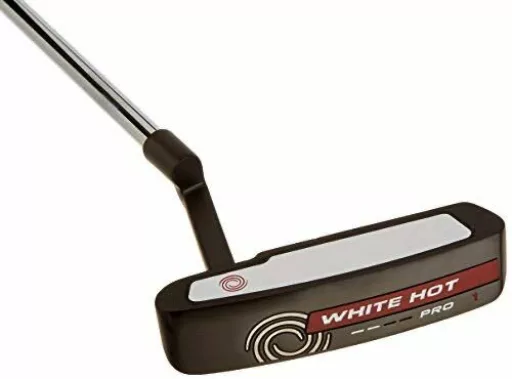 The reason why most Odyssey putters are great for beginners is that the brand keeps on improving and inventing new ways to enhance alignment on their putters. The Odyssey Red Ball Putter is designed to help players get the correct set-up and ball alignment when putting.
As the name suggests, there is a red ball and a ring above it. You have the correct alignment when you see the ball at the center of the ring when addressing. On top of the simple and effective alignment method, this mallet putter has a high MOI of more than 5300, making it a highly forgiving putter.
The putter features the White Hot RX insert, while alignment is made even easier by the Versa high-contrast alignment. It's also impressive how most of the weight was taken out of the head and distributed to the head's perimeter to increase the MOI.
Check Current Price
#7
S7K Standing Putter
Free-Standing Putter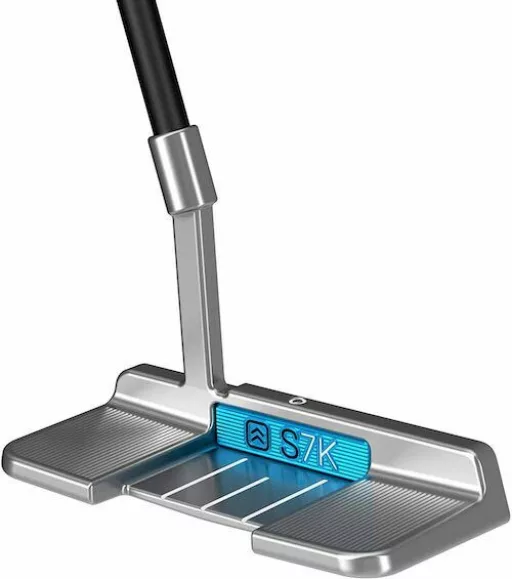 There are very few putters like the S7K Standing Putter. As the name suggests, this is a standalone putter. What this means is that the putter stands upright on its own. So when aiming, you can align it, take a few steps back to view the alignment, and then proceed to make the putt.
And yes, it's perfectly legal and does not cost a fortune.
Head

Blade

Blade type

Stand Alone Address

Hand

Right and Left

Length

34.5"

Shaft

Graphite

Grip

EVA foam
Despite this unique feature, the S7K looks and feels like a traditional putter. The ability to stand is thanks to a heavy head and lightweight grip. To make alignment even easier, the putter has a Triple-Line Path Guide on the flange. This putter also has one of the highest MOI (7000), making the putter less punishing on mishits.
While this design of putters is rare in the competitive setting, the SK7 has received praises from all sorts of players.
Check Current Price
#8
Odyssey Stroke Lab Triple Track Putter
Best Variety of Options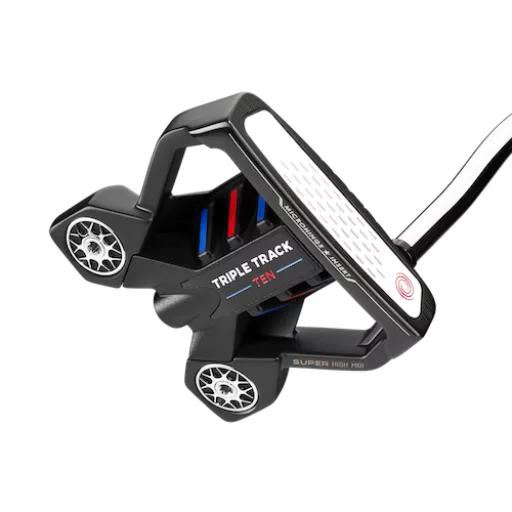 Our next pick for contender of the best beginner-friendly putter is the Odyssey Stroke Lab Triple Track Putter. This is a series of putters featuring triple lines on the putter's head. This series is available in seven head shapes, including the famous 2 Ball, Seven, Ten, Marxman, and Double Wide styles.
In this series, the best head shape for beginners is the 2 Ball, Double Wide, and Ten styles. While the prominent lines may look like basic lines, they are scientific. The lines use Vernier Hyper Acuity, a technology designed to help human eyes align broken lines.
The putter is available in 33, 34, and 35" length with Stroke Lab hybrid shaft and Microhinge Star insert. The multi-material shaft is lighter, adding to the consistency and feedback of the putter, while the insert produces enhanced sound and a firmer feel at impact.
Check Current Price
#9
Seemore FGP Black Mallet Putter
Most Forgiving Putter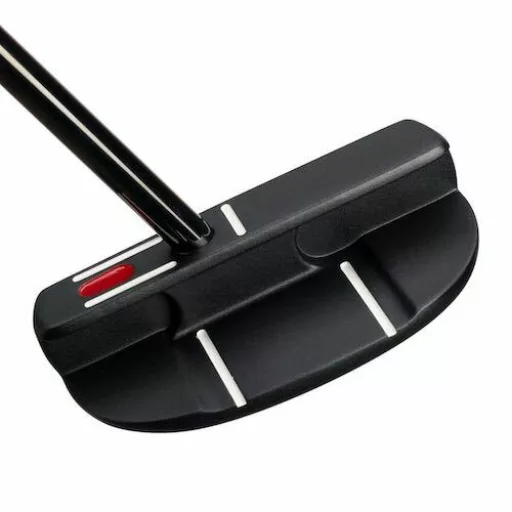 Our last pick for the most forgiving putter that favors beginners is the Seemore FGP Black Mallet Putter from an independent putter manufacturer. While it may not look sophisticated, it performs as expected.
Head

Mallet

Blade type

Face Balanced At Impact

Hand

Right and Left

Length

33, 34, 35, and 36"

Shaft

Alloy Steel

Grip

Standard
The first things you will notice on this putter are the conspicuous white lines and red dot to enhance alignment. The RST alignment system is perfect when the red dot is hidden by the shaft when addressing. The small mallet head is made of dense 303 stainless steel, while the straight shaft has no remedial bends. The only issue with this design is it may take some time to get fully acclimatized to the putter.
Check Current Price
Beginners Guide on Buying a Putter
Here are a few things you should consider when buying a putter:
Get the correct length
For you to get the most out of your putter and improve your game, you must have the right length. The average length is between 32 and 35 inches for most men, while women players average between 30 and 33 inches. That's why you will find most putters are usually 34 or 35 inches long. While the most accurate way to get the ideal length for you is getting the help of a PGA professional, there is a standard DIY estimation method you can use (Check online for videos on how to do it).
Get a forgiving head shape
There are three popular head shapes: the blade, mid-mallet, and mallet. The blade head shape is ideal for players with few mishits as it is less forgiving, which is why it's popular with low handicappers.
Mallet and mid-mallet heads position most of the weight away from the face. This moves the putter's COG backward, increasing the MOI and making these heads more forgiving. You will find different putters employing different designs to increase the MOI. That's why these putters are great for beginners.
Consider the alignment
Most putters, especially mallet putters, have alignment features to help players position the putter correctly before making a shot. For instance, in this review we have the 2-ball putter, which has two discs on top of the blade that you use to align with the ball. There is also another model with triple straight lines aimed at helping you align the ball properly. If you are a beginner, look for a model with these features to help you align the ball properly.
Grip
Another important consideration when buying a putter is the grip. While there is a lot to consider in a grip, the size, material, texture, and technical features are the most critical factors. The size refers to the width. While the most popular grip is the classic pistol grip, large non-tapered grips are becoming popular. The advantage of these is that they help reduce the grip pressure. Whichever grip you decide to go for, the ultimate criteria is performance and comfort.
Putter Design
Another phrase you will hear when buying a putter is whether a putter is a toe heavy, face-balanced, or heel-heavy putter. These terms refer to how the putter head behaves when balanced on a hand, table, or crate. For a face-balanced putter the face points upwards, facing the sky. On the other hand, a toe heavy putter faces down when balanced. Most blade putters are toe down, while most mallet designs are face balanced. Other technical considerations include the sole, lie-angle, face loft, hosel design, and balance.
Brand and price
While there are a ton of brands offering putters, there are several in particular that have emerged as the top putter brands. One way to know a premium brand is of course when you see tour players using their putters. These brands include Cleveland, Odyssey, TaylorMade, Titleist, among others. If you are considering taking up golf as a a regular hobby or even as a career interest, go with a putter from one of these brands. Most of their putters have been tested and stood the test of time.

When it comes to price, you will find putters ranging from as cheap as $20 to as high as $600. Although we do not recommend spending more than $300 for a putter, if you are a beginner, steer away from the cheap - especially from a questionable brand.
Conclusion
The majority of the putters listed in this article will help a new golfer improve on their putting game. The putters include lots of features to help you with alignment, which makes developing your putting skills much easier than forcing your way through with plain trial and error.

More about Putters you might also like: