Golf Wedge Loft and Distance Chart
See the various loft degrees and distance in yards for each golf wedge type.
by Jake Tingey & Judd Lyon · Updated: 5/2/23
Jake Tingey, Golf Expert
Jake is a lifelong golfer who loves keeping up with the latest golf news and equipment.
Judd Lyon, Web Developer
Judd is the tech guy behind Front Nine Golf with a huge slice.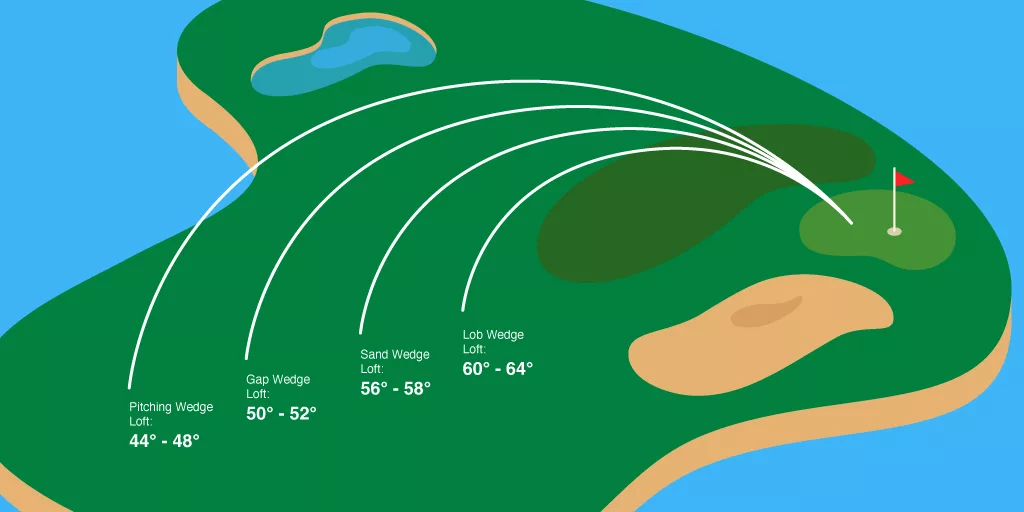 Confused about what golf wedge loft to use for different distances on the course? Look no further! Our comprehensive golf wedge loft and distance chart breaks down the average distances you can expect to hit with each wedge, from your pitching wedge to your lob wedge. Get the information you need to optimize your golf game and make every shot count.

Golf Wedge Lofts and Distances

| Wedge Type | Loft (Degrees) | Distance (Yards) |
| --- | --- | --- |
| Pitching Wedge | 44° - 48° | 90 - 120 |
| Gap Wedge | 50° - 52° | 75 - 100 |
| Sand Wedge | 56° - 58° | 60 - 80 |
| Lob Wedge | 60° - 64° | 60 - 80 |
More about Wedges you might also like: