Discover the World's Most Iconic Golf Courses
Explore the beauty and challenge of 22 top-rated golf courses across the globe.
by Jake Tingey & Judd Lyon · Updated: 2/19/23
Jake Tingey, Golf Expert
Jake is a lifelong golfer who loves keeping up with the latest golf news and equipment.
Judd Lyon, Web Developer
Judd is the tech guy behind Front Nine Golf with a huge slice.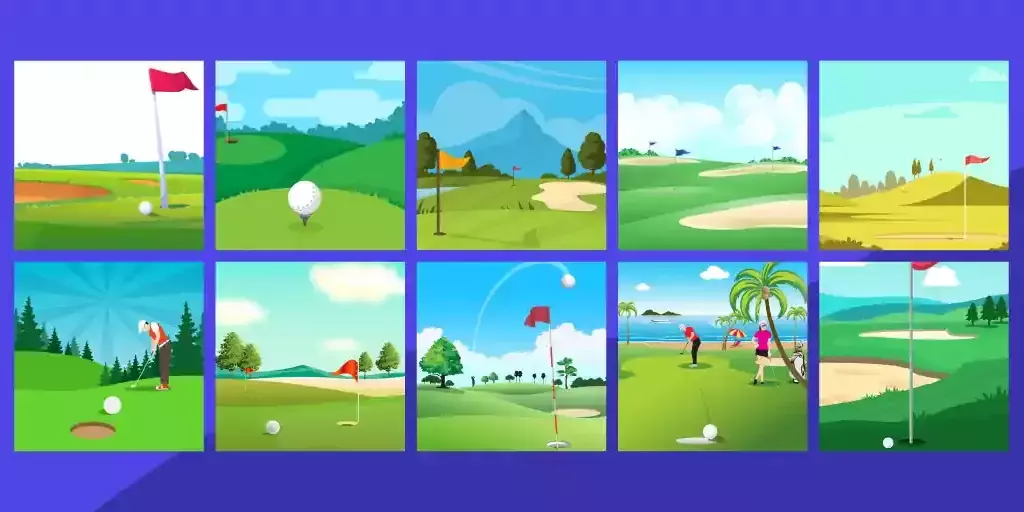 As a golfer, it's impossible to ignore the diverse landscape and unique challenges presented by each golf course. No two holes are alike, making every round of golf a fresh and exciting experience, even if you've played the same course before. Golf courses play a significant role in the sport's history, and it's easy to see why. From the rolling hills of Scotland to the sunny beaches of California, there's a course for every type of player.
Whether you're searching for a picturesque Scottish link or a sunny Californian oasis, these famous courses are a golfer's dream. Although some are more well-known than others, they all share a common characteristic - they're must-play destinations for any golf enthusiast. So, if you're looking for the world's most popular golf courses, look no further. Here's a list of the absolute must-visit courses.
St Andrews Links

St Andrews, Scotland

St Andrews Links is comprised of seven courses, each offering its own unique challenges and breathtaking views. The Old Course is the most famous of all and is the one that all golfers must experience. The Old Course features wide fairways, tricky bunkers, and large, undulating greens that have been shaped by centuries of wind and weather.

The course is a true test of golf and is considered to be one of the most difficult in the world. But for those who rise to the challenge, the reward is a sense of connection to the sport's rich history and a sense of pride in overcoming the course's many obstacles.

St Andrews Links is more than just a golf course, it's a golfing destination. The club is located in the charming town of St Andrews and offers a variety of dining, shopping, and accommodation options. Whether you are looking for a luxurious stay at the St Andrews Links Golf Lodge or a more budget-friendly option, there is something for everyone.

In addition to playing the courses, golfers can also tour the St Andrews Links Museum, which showcases the history of the sport and the club. Visitors can also explore the iconic Swilcan Bridge, which has been featured in countless photos and is one of the most recognizable landmarks in golf.

In conclusion, St Andrews Links is a must-visit for any golfer. Whether you are a beginner or an experienced player, the club offers a unique and unforgettable experience that is sure to leave you with memories that will last a lifetime.

Pebble Beach

Pebble Beach, California

Experience the beauty and prestige of Pebble Beach Golf Course, ranked as one of the top 100 courses in the world. This iconic California club, first opened in 1919 and designed by Jack Neville and Douglas Grant, has hosted numerous prestigious tournaments including 5 U.S. Open Championships, 4 U.S. Amateur Championships, and the annual AT&T Pebble Beach National Pro-Am. Get ready to tee off at one of the most picturesque and historic golf destinations.


Pinehurst

Pinehurst, North Carolina

Looking for a golfer's paradise? Look no further than Pinehurst, North Carolina! With nine exceptional courses to choose from, Pinehurst offers something for golfers of every level. From the picturesque scenery to the demanding terrain, every round here promises to be unforgettable. And when you're done on the course, treat yourself to a spa day, indulge in delicious dining, and enjoy all the other top-notch amenities Pinehurst has to offer. Come see why Pinehurst is a must-visit destination for golfers everywhere!


Whistling Straits

Haven, Wisconsin

Elevate your golf game at Whistling Straits, a world-renowned course in Wisconsin. Soak in breathtaking views of Lake Michigan while playing two iconic holes, the par-3 12th island green and par-5 18th with a lake view. Recharge at the club's spa or work out at the fitness center. A must-play destination for golfers.


Augusta National

Augusta, Georgia

As one of the most renowned golf courses in the world, Augusta National Golf Club has a rich history and a storied reputation. Its founders, Bobby Jones and Clifford Roberts, created a masterpiece that has been the site of countless memorable moments in the sport of golf. From its inception in 1933, Augusta has been the stage for the Masters Tournament and has been host to some of the greatest golfers in history.

The course itself is a true beauty, combining stunning natural scenery with challenging holes that test even the best golfers. Augusta is known for its perfectly manicured fairways and greens, as well as its iconic holes such as the par-3 12th and the par-5 13th. The Augusta National Golf Club is also home to the iconic Amen Corner, a three-hole stretch that has been the site of many dramatic moments in golf.

For golf enthusiasts, playing Augusta National is a once-in-a-lifetime experience. The club's history and prestige make it one of the most sought-after tee times in the world. Whether you're a seasoned pro or a passionate amateur, Augusta is a place where you can connect with the rich history of the sport and test your skills on one of the world's most challenging courses.

Bay Hill

Bay Hill, Florida

For golfers looking for a challenging and scenic course, Bay Hill in Florida should be at the top of their list. With its mix of stunning elevation changes, rolling greens, and picturesque lakes, Bay Hill is both challenging and beautiful. With a history dating back to 1929, Bay Hill has hosted some of golf's biggest tournaments, including the annual Arnold Palmer Invitational, making it a must-play for any serious golfer.

Access to Bay Hill is exclusive to club members, but once you're in, you'll have the opportunity to tackle the 27 holes of varying difficulty, with the Champion/Challenger course being a favorite among members. Each March, the course is also home to the PGA Tour's Arnold Palmer Invitational, attracting top professionals and giving golf enthusiasts the chance to watch and learn from the best.

Sawgrass

Ponte Vedra Beach, Florida

Sawgrass Golf Resort in Ponte Vedra Beach, Florida is a must-visit for golf enthusiasts. With two 18-hole championship courses designed by the renowned architect Pete Dye, Sawgrass offers a challenging and beautiful golf experience. The Stadium Course is particularly famous, being the host of the prestigious Players Championship on the PGA Tour.

In addition to its top-notch golf courses, Sawgrass boasts a cutting-edge practice facility complete with a driving range, chipping green, and putting green. Beyond the greens, the resort offers a range of dining and shopping options, making it the ideal destination for a golf getaway or a day out on the course. With world-class facilities and breathtaking scenery, Sawgrass is sure to be a memorable and enjoyable experience.

Torrey Pines

San Diego, California

Nestled atop the cliffs of La Jolla, Torrey Pines Golf Course is a breathtaking destination for golfers of all levels. With panoramic views of the Pacific Ocean, the course presents a challenge like no other, with its rolling hills and well-manicured greens. Renowned for its stunning beauty and challenging play, Torrey Pines is a must-visit for golf enthusiasts.

But the fun doesn't stop on the course. Torrey Pines also boasts a top-notch restaurant and pro shop, making it the perfect place to spend a full day of golf and relaxation. From first-timers to seasoned pros, Torrey Pines promises a memorable and unforgettable experience.

Southern Hills

Tulsa, Oklahoma

image: yourgolftravel.com

Southern Hills Country Club in Tulsa, Oklahoma is a true gem of the golfing world. With its doors first opening in 1935, it quickly established itself as a must-visit destination for golf enthusiasts. This prestige was cemented ten years later when the club started hosting some of the most renowned golf championships in the country.

Southern Hills is renowned for its challenging yet stunning layout. Every hole is a test of your skill, but the reward is well worth it with breathtaking views of the surrounding scenery. The club goes above and beyond to ensure that their guests have the best experience possible, which is why they offer a wide range of amenities. From their pro shop stocked with the latest gear, to their top-notch dining facilities, to their well-manicured practice facility, Southern Hills has got you covered.

Whether you're a seasoned pro or just starting out, Southern Hills Country Club is the perfect place to tee off. With its challenging yet beautiful layout, along with its impressive amenities, Southern Hills promises to provide an unforgettable experience that will have you coming back time and time again. So, grab your clubs and get ready for a day of fun and adventure at one of the best golf courses in the country!

Mayakoba

Playa del Carmen, Mexico

In addition to its world-class golf offerings, Mayakoba is also home to a luxurious spa, fine dining options, and a variety of other amenities that make it the perfect destination for golfers looking to experience the best of what Mexico has to offer. Whether you're a seasoned pro or a beginner, Mayakoba's lush landscapes and challenging terrain will provide a truly unforgettable golfing experience. And with the stunning Caribbean Sea as your backdrop, you'll feel like you're playing in paradise. So pack your clubs, grab your sunscreen, and get ready to tee off at one of Mexico's most iconic golf destinations.


Bandon Dunes

Bandon, Oregon

Bandon Dunes Golf Resort in Oregon is a breathtaking golf destination that has been capturing the hearts of golfers from around the world. With its breathtaking views and challenging courses, Bandon Dunes is an experience that every golfer should have.

Designed by renowned Scottish golf course architect David McLay Kidd, Bandon Dunes boasts a unique and challenging layout that will test golfers of all skill levels. From its forgiving landing areas to its undulated green complexes, Bandon Dunes offers a truly unforgettable golfing experience. Whether you're looking to perfect your game or just enjoy a scenic round of golf, Bandon Dunes is the perfect place to tee off.

East Lake

Atlanta, Georgia

East Lake Golf Club in Georgia is renowned for its rich history as the home course of legendary player Bobby Jones. The club features beautifully tree-lined fairways and small greens that offer a challenging and traditional golf experience.

At East Lake, golfers are encouraged to walk the course and immerse themselves in the game's classic atmosphere. With no cart paths, players can take their time and fully appreciate the natural beauty surrounding the club. This unique approach to golfing makes East Lake a must-visit destination for golf enthusiasts seeking a true golfing experience.

Pine Needles

Southern Pines, North Carolina

Pine Needles Golf Club in North Carolina is a highly sought-after and exclusive club known for its championship course and stunning scenery. With a history of hosting four U.S. Women's Open Championships, most recently in 2007, and a future hosting in 2021, Pine Needles is a top destination for serious golfers.

Boasting a world-class instructional academy, Pine Needles attracts golfers of all skill levels looking to improve their game or simply enjoy a round in a beautiful setting. If you're seeking a memorable golfing experience, Pine Needles is the place to be.

Pumpkin Ridge

Portland, Oregon

Pumpkin Ridge golf club is a favorite among locals in the Portland area. The course, nestled among tall pines, provides a serene and picturesque setting for a round of golf. Despite its peaceful appearance, the course is known for its challenging layout, featuring narrow fairways and small greens.

Pumpkin Ridge has also played host to several prestigious events, including the Nike Golf Classic and the LPGA Portland Classic. With its challenging layout and stunning surroundings, Pumpkin Ridge is the perfect place for golfers of all skill levels to enjoy a round of golf.

Innisbrook

Palm Harbor, Florida

Innisbrook golf club in Florida is a place like no other, offering much more than just a beautiful landscape and championship-level golf course. It's a place where friends and family can come together to enjoy the great outdoors and feel like part of the Innisbrook family.

From the warm welcome to the friendly hospitality, Innisbrook is a place where you'll feel right at home. With a variety of amenities, you'll find everything you need to unwind and have a great time, whether it's hitting the links or simply taking in the stunning scenery.

Featuring four exceptional courses designed by Lawrence "Larry" Packard, each offering its own unique and picturesque setting reflecting Florida's terrain, Innisbrook is the perfect destination for golfers of all skill levels. Take advantage of the different golf packages available or improve your skills with expert tips and lessons. Come experience the full Innisbrook golfing experience for yourself.

Kapalua

Maui, Haiwaii

Kapalua Golf Club, located on the picturesque island of Maui in Hawaii, offers a truly unforgettable golf experience. Surrounded by breathtaking views of the Pacific Ocean and neighboring islands, this exclusive private club is the epitome of serenity and beauty.

Not only does Kapalua offer a stunning setting, but the course itself is a true test of skill, offering a challenge to golfers of all levels. The club also boasts top-notch amenities, including a well-stocked pro shop, a spacious driving range, and a welcoming clubhouse. The friendly and knowledgeable staff at Kapalua ensure that every visit is a memorable one. If you're a golf enthusiast, Kapalua Golf Club should be at the top of your list.

Harbor Town

Hilton Head Island, South Carolina

Harbor Town Golf Club in South Carolina is a renowned and exclusive club that has earned its place in the annals of golfing history. Established in 1969, the club has hosted a number of renowned tournaments, including the PGA Tour's Heritage Classic.

Nestled on a picturesque island, Harbor Town boasts breathtaking views and a challenging course with narrow fairways and small greens. The club is also known for its exceptional amenities, including a well-stocked pro shop, a driving range, and top-notch service. For a truly outstanding golfing experience, Harbor Town is the destination of choice.

Vidanta

Nuevo Vallarta, Mexico

The Vidanta Golf Club in Nuevo Vallarta, Mexico is a golfer's paradise. Set against the backdrop of the beautiful Yucatan Peninsula, it offers a world-class golfing experience that is both challenging and enjoyable. Designed by the legendary Jack Nicklaus, the 18-hole course is a true masterpiece, providing a test of skill for golfers of all levels.

In addition to its outstanding course, the Vidanta Golf Club also boasts a magnificent clubhouse. Here, you'll find all the amenities you need, including locker rooms, a pro shop, and fine dining options. Whether you're a seasoned pro or just starting out, the Vidanta Golf Club is the perfect place to tee off. With its breathtaking scenery and top-notch facilities, it's one of Mexico's premier golf destinations.

Iverness

Toledo, Ohio

Inverness Golf Club in Ohio is a prestigious club known for its well-manicured and challenging yet fair course. It has hosted numerous PGA and USGA events and offers a beautiful and first-class golfing experience. The club is surrounded by trees and bunkers, attracting both amateur and experienced golfers. With its rich heritage and memorable experiences, Inverness Golf Club is a top destination for those lucky enough to receive an invitation to play. The tee shot of the course runs for 285 yards, making it a thrilling round for all.


Payne's Valley

Branson, Missouri

Payne's Valley golf club in Missouri is a truly unique and special place to play golf. Named in honor of the late Payne Stewart, a professional golfer who lost his life in a plane crash, the course provides a challenging and memorable experience. Designed by golf legend Jack Nicklaus, it is the first public-access course he has ever designed.

The course itself is breathtaking, offering stunning views of the surrounding nature, making it feel as if you are one with the environment. Payne's Valley is also one of the few courses in the world that offers night golf, with 150 LED lights lining the fairways, allowing for an unforgettable experience of teeing off after the sun has set. If you're ever in Missouri, be sure to visit Payne's Valley, it's a round of golf you won't soon forget.

Quail Hollow

Charlotte, North Carolina

Quail Hollow is a golf club that offers a truly exceptional experience. Located in North Carolina, its beautiful rolling hills and scenic views make it a true haven for golf enthusiasts. The club boasts impeccable facilities and is home to the prestigious Wells Fargo Championship on the PGA Tour. Whether you are an experienced player or just starting out, Quail Hollow is a must-visit for any golf lover.


Carnoustie

Carnoustie, Scotland

Carnoustie Golf Club, located in the town of Carnoustie in Angus, Scotland, is a world-renowned and historic golf destination. Boasting a rich heritage, the club has hosted the highly-regarded Open Championship six times, with the most recent taking place in 2018. The course is renowned for its challenging terrain, particularly the "Burnay" stretch of holes along the coastline, and offers breathtaking views of the North Sea. Golfers of all abilities will find Carnoustie to be a truly memorable experience and a must-visit location.

In conclusion, golf courses around the world offer something special for every golfer, whether you are a seasoned pro or just starting out. From the historic Augusta National to the breathtaking views at Quail Hollow and Carnoustie, there's something for everyone. These courses are not just a test of golf skills, but they also provide a beautiful and serene escape from the hustle and bustle of everyday life. Whether you're looking to improve your game or simply enjoy a round in beautiful surroundings, these courses are sure to provide a memorable experience.