The Best Blade Putters: Our Top 7 Picks
Our favorite blade putters plus factors to consider when buying
Blade and mallet putters are the most used and popular putter styles. While both types are great, they have different uniqueness that appeal to different users and situations. For instance, blade putters provide the best distance control on longer putts beyond 10 feet.
Blade putters are also more precise and great for feel players who love to feel the ball react with the face. The major downside with most blade putters is that they are less forgiving. Also, they don't have the best alignment features compared to mallet putters. Because of the consistent shape of the blade putters, they are popular among players who love the classic feel and look of putters.
In this review, we have compiled what we think are the best blade putters on the market. We asked experts and players and spied on what buyers are saying online. Whether you are on a budget or looking for a premium model, we have something for you.
With that out of the way, let's get into it.
#1
Scotty Cameron Special Select Newport 2 Putter
Top Pick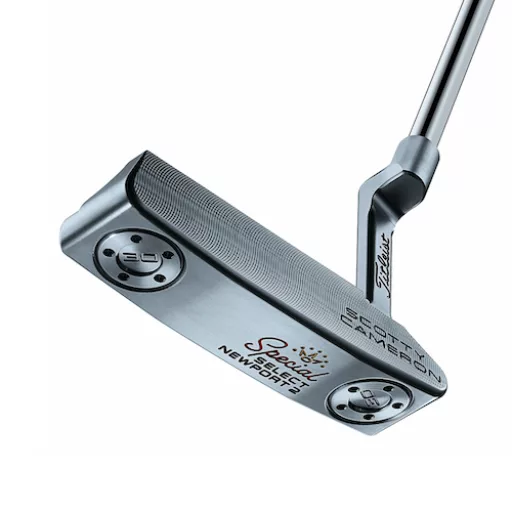 Our top pick for the best blade putter is the Scotty Cameron Special Select Newport 2, which is a redesigned and improved version of the Newport 2. Newport 2 is probably the most decorated blade putter of all time and one of the eight putters in the Special Select series.
Head

Blade

Blade type

Mid toe hang

Hand

Right and Left

Length

33", 34", 35"

Shaft

Steel

Grip

Pistolini Plus
If you are a Cameron fan, the first thing you will notice is the one-piece construction. For some time, Cameron had been releasing putters made of multi-materials. But for this putter, Cameron went back to the basics with a head made of 303 stainless steel.
The Scotty Cameron Special Select Newport 2 is insert-free, has a mid-milled face pattern, and a raw stainless steel finish that looks immaculate. Unlike previous designs, this one has a narrower and flatter topline, tungsten sole weights, and a redesigned plumbing neck. The weights enlarge the putter's sweet spot, adding to its stability and accuracy. On the course this putter feels great, looks excellent, and is highly dependable.
Check Current Price
#2
Ping Sigma 2 Anser Putter
Putter with Adjustable Shaft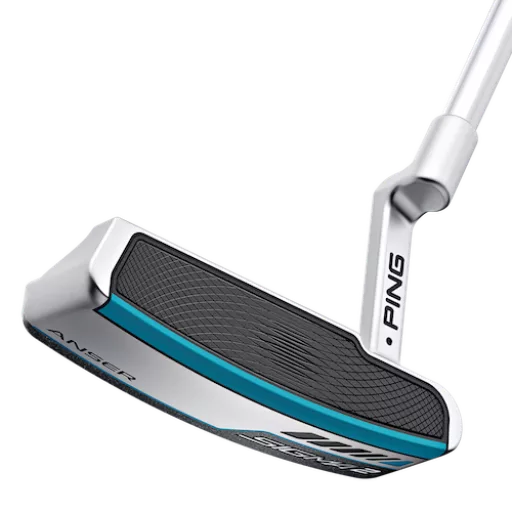 If you are looking for the best blade putter under $200, the Ping Sigma 2 Anser Putter is a perfect fit. This putter is one of the most popular models in the Ping Sigma 2 series of putters that feature an innovative adjustable shaft and is available in four different grips. The 11 putters in this series have a soft yet firm and highly responsive dual-durometer face.
Head

Blade

Blade type

Mid toe hang

Hand

Right and Left

Length

Adjustable: 32" - 36"

Shaft

Steel

Grip

PING PP60 PISTOL
The Ping Sigma 2 Anser Putter's most outstanding feature is the adjustable length technology hidden within the grip, allowing you to adjust the length between 32 and 36 inches. This rare feature was added after the brand noticed that 8 out of 10 golfers don't use the right length for their size. The complimentary face technology on this putter utilizes grooves with varying depth and width for distance control and consistent performance on both long and short putts.
To make alignment easier, there is a simple line on top of the putter head. The putter is designed for players with a slight arc stroke type. It's available in stealth and platinum finishes for both right and left-handed players.
Check Current Price
#3
Odyssey White Hot OG One Putter
The Most Popular Insert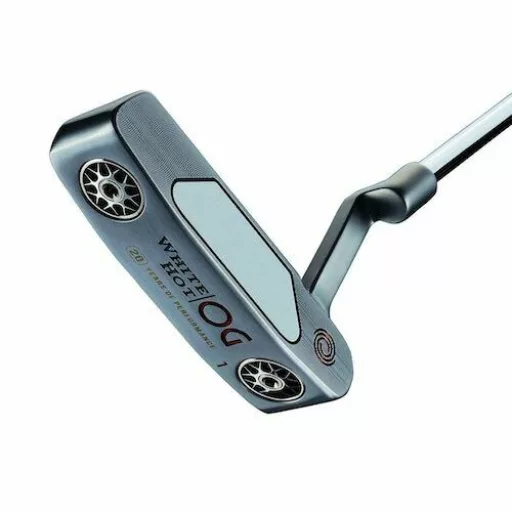 One of the putters in the White Hot putter series by Odyssey, the Odyssey White Hot OG One putter specifically features one of the most played and decorated putter inserts (the White Hot insert.) While the original White Hot insert was released in 2000, it has remained a favorite to most professional players who use Callaway Putters.
Head

Blade

Blade type

Toe Hang

Hand

Right and Left

Length

33" 34" and 35"

Shaft

Odyssey Stepless Steel

Grip

DFX Rubber Grip
The most distinctive feature of the White Hot Insert is that it produces a sound that matches the force applied, in contrast to many inserts that sound quiet or soft in the case of a firm putt. For the White Hot Insert, the short putts sound soft, while the long putts have a high toned clicking sound. These distinct and accurate sounds aid in distance control.
This traditional blade putter has a significant toe hang design and a Crank hosel, and is also one of the best looking putters thanks to the milled surface finish. It's available in 33", 34", and 35" lengths and has a DFX rubber grip. There is a single line at the center of the head to aid in alignment.
Check Current Price
#4
Odyssey Triple Track Black Double Wide Putter
42-Inch Putter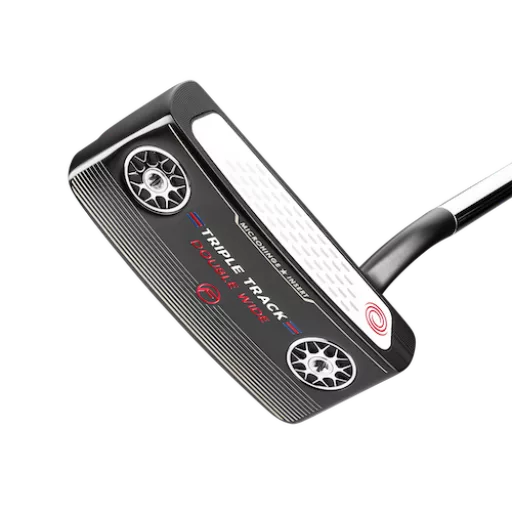 Every putter brand is competing to produce the best putter ever. To do this, brands are constantly innovating and trying to mix things up, from inventing new face inserts to designing new shaft designs. For our next putter, special attention was focused on the putter shaft.
Head

Wide blade

Blade type

Face balanced

Hand

Right and Left

Length

42"

Shaft

Stroke Lab

Grip

Stroke Lab Black Armlock
The Odyssey Triple Track Double Wide Putter is one of the ten putters in the Stroke Lab putter series by Odyssey. The putters in this series feature a lighter multi-material shaft. The brand indicates they appropriated approximately 40g from the shaft and redistributed the weight to the grip and head. This weight redistribution completely re-balances the putter, improving both consistency and tempo.
Just like the rest of the putters in this series, the Double Wide Putter features a new micro hinge star insert that provides enhanced sound and a firmer feel but has the same roll characteristics as the White Hot insert.
Because of the wider blade, the Double Wide is a great putter for players transitioning from mallet putters as it is easier to align thanks to the longer line. The putter has a rich black finish, while its 42" oversize length makes it ideal for the armlock putting method.
Check Current Price
#5
TaylorMade TP Patina Collection Soto
Strikingly Good Looking Putter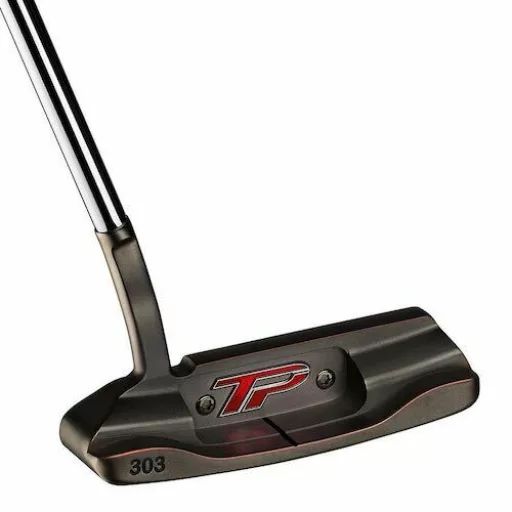 The TaylorMade TP Patina Collection Soto is one of the seven putters in the TP Patina Collection series by TaylorMade. The TP in the name stands for Tour Preferred, while Patina refers to the copper and black nickel finish that oxidizes over time.
Head

Blade

Blade type

Face balanced

Hand

Right and Left

Length

34" 35"

Shaft

KBS CT TOUR PUTTER

Grip

SUPER STROKE PISTOL GTR 1.0
These putters have a 5mm thick Pure Roll aluminum insert that feels solid and sounds great. The insert is fastened by two signature TP screws to prevent air pockets or voids from developing under the insert, which would otherwise affect the feel on impact.
The insert face is designed with grooves at 45 degrees to enhance the forward roll of the ball. The putters have TP sole weights ranging from 2.5g to 20g that you can use to adjust the feel and weight of the putter. There is also a black line on top to aid in alignment, which helps you drain more putts. This is undoubtedly one of the best-looking blade putters thanks to the patina finish.
Check Current Price
#6
PXG Mustang Putter
Excellent All-round Performance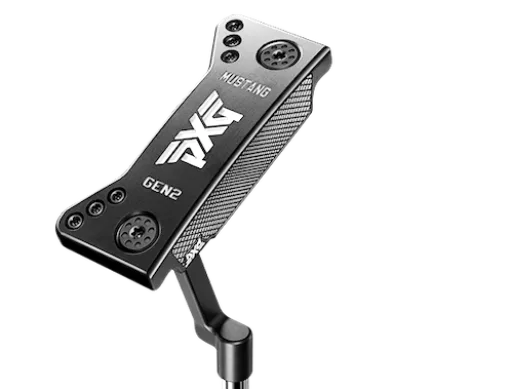 While other brands name their putters according to the insert used or the shaft design, PXG named this putter after WW1's most dangerous fighter airplane: the Mustang. This is to illustrate the sheer power and potential that you can achieve with this putter.
Head

Blade

Blade type

Heel-toe weighted

Hand

Right and Left

Length

33" and 34"

Shaft

Steel

Grip

SInk Fit Pistol and Skinny
The PXG Mustang Putter is heel-toe weighted and has a high MOI, enhancing its forgiveness. It has a 303 stainless steel head and features both tungsten and titanium weights on the sole. These weights are distributed using a Precision Weighting Technology which in turn further serves to increase the MOI. The weights range from 5 to 20g, in 5g intervals.
The face is designed with small pyramid structures, which vary in size with most of the concentration happening at the center. This design helps offset the loss of speed in case of mishits as well as improving distance control. The TPE polymer has vibration dampening properties to enhance the feel and sound of the putter.
The Mustang is available in a black and chrome finish with 3 hosel designs; heel-shafted, double bend, and plumber's neck.

Check Current Price
#7
Odyssey Toulon Seattle Putter w/ SS Pistol Grip
Premium Blade Putter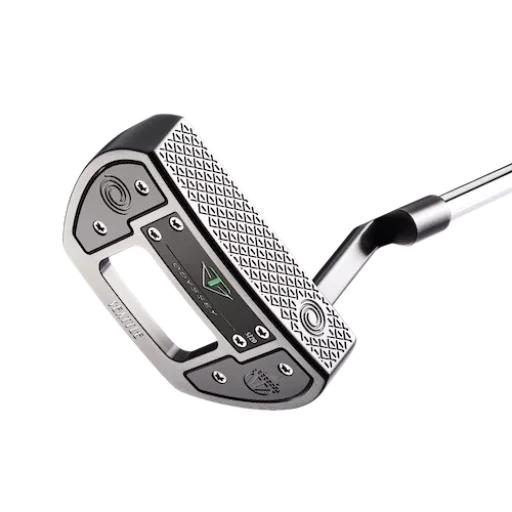 Our last pick for the best blade putter is the Odyssey Toulon Seattle Putter. This is for golfers looking for the finest of putters. As the name suggests, this putter is designed by the legendary Sean Toulon and named after Seattle. If you live in or have a special connection to the city of Seattle, you will love this putter.
Head

Blade

Blade type

Toe Hang

Hand

Right

Length

34" 35"

Shaft

Steel

Grip

SS Pistol Grip
As is the norm, the Odyssey Toulon Seattle Putter is made from premium materials and every detail on this putter is exceptional. This is a classically shaped putter with an incredibly soft feel and it simply looks stunning. It is designed to offer the best possible distance control and to create ideal speeds. The putter's face has a deep diamond milling pattern that both promotes forward roll and prevents backspin.
One thing to note is that the putter has a thicker cavity and a shorter blade length. It also has a single line on the top of the head to aid in alignment.
Check Current Price
Factors To Consider When Shopping For A Blade Putter
Face Technology
One of the areas that manufacturers pay the most attention to when designing putters is the club face. That's why you will find a wide range of designs from simple designs to handcrafted patterns. Typically, putters have either a milled face or an insert face.
Milled faces feature different designs all seeking to provide the best feel, accuracy, and consistency. Insert putters usually have an insert made of aluminum compound, synthetic material, or rubber. Some putters are named after the insert use - for instance, the Hot White Insert by Odyssey.
Shaft and Hosel
Unlike the other parts of a putter that have lots of variations from one model to another, shafts are generally quite standardized. Most putters have a steel shaft, because steel is both readily available and cheaper. These days however, you will also find graphite and composite shafts.
When it comes to the hosel, there are lots of different options, such as double bend, short hosel, plumber neck, center shaft, or slant neck.
Length
One of the most common and inconspicuous mistakes made by most golfers is having a putter that is either too short or too long. Because most putters are available in 33", 34", and 35" lengths, people tend to go straight to the 35", which is just as often not the ideal length for them. Research has been proven to show that 35" putters are ideal for people who are 6' and above. If you are between 5'9″ and 5'11", your sweet-spot is maybe 34", while anyone below 5'8″ should strongly consider a 33-inch putter.

To get the absolutely perfect putter length for you individually, consider contacting a PGA consultant, but another way to make sure you have the correct length is by buying a putter with a height-adjustable shaft. This of course will allow you to experiment with different lengths.
MOI and Alignment
While blade putters are not the most forgiving, technology is improving to change this. If you are a beginner, check out what features the brand is using to improve ease of use and adjustment to the model. For instance, blade putters now frequently feature better alignment through wider designs.
Grip
The grip of a putter is the only place you should be in contact with the putter itself. The key considerations when deciding on a grip is thickness and weight. The lighter the grip the heavier the putter will feel and vice versa. Putters with a firm grip provide more feedback while soft grips have less feedback.
Longer grips provide more surface to hold, while thicker grips eliminate the wrist and finger's impact, resulting in a rocking movement.
While it's not the most important consideration, making sure that the putter looks good and feels great will go a long ways towards an enjoyable experience. If you want to match your other golf gear, choose a color that complements it. Alternatively, check out putters that allow you to customize the colors of the different parts.
Brand and Price
While there are tens of putter brands on the market, only a few have their putters being used on Tour by pro players. To be on the safe side, go with a model that has been on the market for some time and preferably one that has been in use on Tour. Consider doing research on who has designed the model - however, for premium models you will generally have to pay more.
Conclusion
A good blade putter in your golf bag will add a great deal of style AND performance to your experience on the green. These putters were narrowed down to include the top choices on the market, so be sure to give them a look when picking out the putter for you.
Frequently Asked Questions
When you're looking at ways to improve your short game around the
green, these are some of the most common questions we're asked by golfers looking for the best putters out there. For blade putters specifically, here's a roundup of the most important details when making a purchase.

Both blade and mallet putters both have unique advantages that make each type great for specific situations. For instance, blade putters are the best when it comes to accuracy and distance control on longer putts beyond 10 feet. On the other hand, mallet putters have some of the best alignment features and are highly forgiving.

While there is a notion that blade putters are the most used putters, recent stats say otherwise. According to Odyssey, about 65% of professionals prefer a mallet when using a putter. The boost of mallet popularity has largely been thanks to the toe-hang mallet specifically.

Blade putters are popular with pro golfers who prefer the traditional look and feel of blade putters. Generally, they are preferred due to the simplicity of their design as well as how they feel on impact with the ball.

Compared to mallet putters, blade putters are indeed less forgiving. Mallet putters have a larger club-head which makes it easier to distribute weight in different patterns so as to increase the MOI of the putter. Also, mallet putters have a larger surface for alignment features such as lines and discs.

The biggest benefit of blade putters is that they have the that traditional feel and look of a putter. Having said this, they are also the best for longer putts.

The best blade putter brands include Odyssey, Titleist Scott Cameron, and TaylorMade.
More about Putters you might also like: