The Best Budget Putters Under $100
Our picks for budget-friendly putters from reputable brands
Sure, there are premium golf putters featuring some of the latest technologies and advanced construction that everyone would love to acquire. However, they are expensive. Not everyone has $300 or $600 to spend on a putter.
Luckily, there are budget-friendly putters from the same brands. While they are not as advanced as the premium models, they get the job done. In this review, we have compiled and reviewed some of the best budget putters under $100. These putters are not just for beginners, they can be a great addition to any player's bag. The best thing - most of them are from the same brands that manufacture the premium models.
Our selection criteria for these putters take into account their build quality, features, manufacturer's reputation, and durability. We have also included a wide range of options for all players.
#1
Wilson Harmonized M5 Putter
Our Top Pick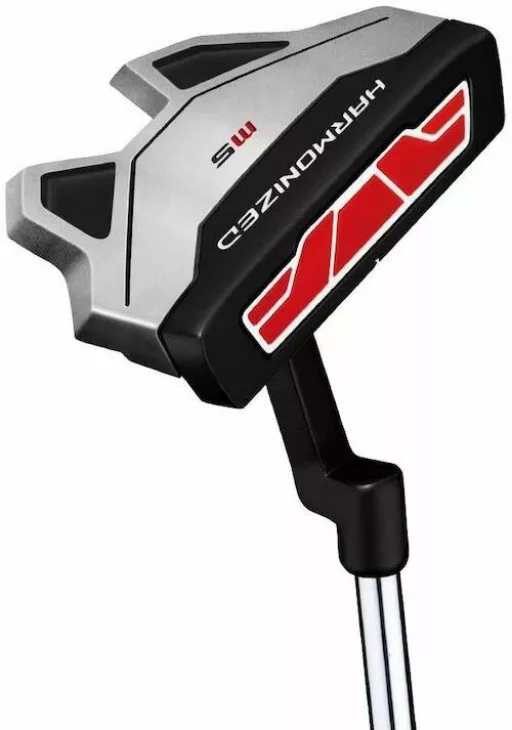 Our top pick for the best budget putter under $100 is the Wilson Harmonized M5 Putter. The M5 is one of the 8 putters in the Harmonized series of putters that are available in a wide range of head designs. The M5 features a mallet head design with a polymer face insert and is ideal for recreational golfers.
Head Shape

Mallet

Toe Hang

Face Balanced

Length

35-inch

Shaft material

Alloy Steel

Hand

Right
This face-balanced putter is 35" long with a grip that has a seam at the back. The grip is a bit wider. While you won't get the details and sophistication you get on high-end premium putters, the M5 feels and looks great. Some of its notable player performance-boosting features include two horizontal lines on the head. These lines make it easy to align when making a shot.
One thing to note about this putter is that it's very lightweight. While this won't be an issue to beginners and those used to light putters, if you are used to a heavy putter, it will take time to adjust. But when you get a hang of it, it's a breeze.
Check Current Price
#2
Tour Edge HP Series 02 Putter
Most Consistent Performance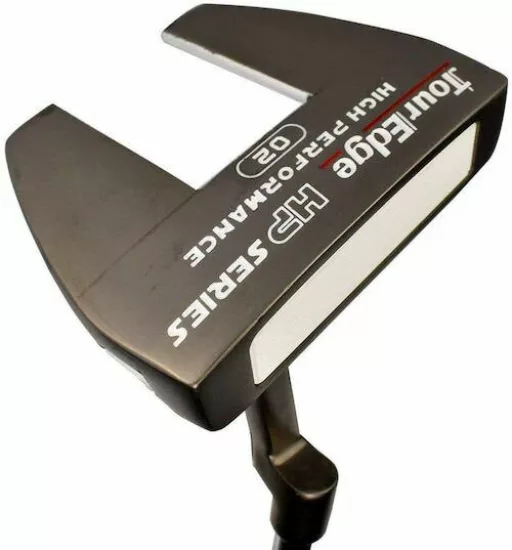 Our second pick is the Tour Edge 02 Putter one of the 8 putters in the HP Series putters. The Tour Edge HP Series 02 Putter is perfect for anyone who is targeting a consistent putting performance. While the workmanship is not perfect, it's better than what you find on most other putters in this price range.
Head Shape

Winged Mallet

Toe Hang

Face Balanced

Length

34" 35"

Shaft material

Alloy Steel

Hand

Right

Grip

Jumbo Grip
Like the rest of the putters in the HP series, the #2 features a soft-feeling insert with microgrooves to minimize skidding. You get more control from the jumbo grip which reduces wrist and hand movement.
The black nickel finish helps to minimize glare while the heel-toe weighting adds to the putter's forgiveness.
Check Current Price
#3
WILSON Staff Harmonized M1 Putter
Most Balanced Option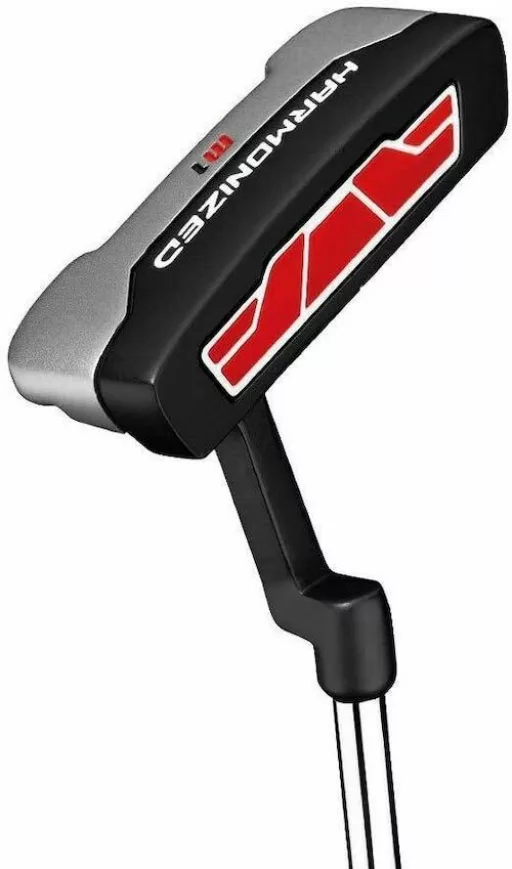 Another super putter under $100 is the Wilson Harmonized M1 Putter available in 35" length without customization. This putter delivers the right balance of quality, weight, and classic looks for a putter in this price range.
Head Shape

Modern Blade

Toe Hang

Toe Balanced

Length

35"

Shaft material

Steel

Hand

Right and Left
Unlike other putters which carry considerable weight on their heads, the staff harmonized putter feels light, looks great, and performs as expected. Its head is well designed and not distracting, allowing you to focus on what is important; the ball. The face is made of micro-injection polymer to deliver consistent hits.
To make alignment easier, the putter has an easy alignment design featuring horizontal lines on the head while a vertical seam on the back of the mid-sized grip improves feel and comfort when putting. The Staff Harmonized M1 Putter has the potential to last for long if you handle it with care.
The only issue with the M1 is some edges are sharp and can scratch other clubs in the bag. Also, the 35" length makes it not ideal for short and tall golfers.
Check Current Price
#4
Tour Edge Pure Feel Template Alps Putter
Most Comfortable Choice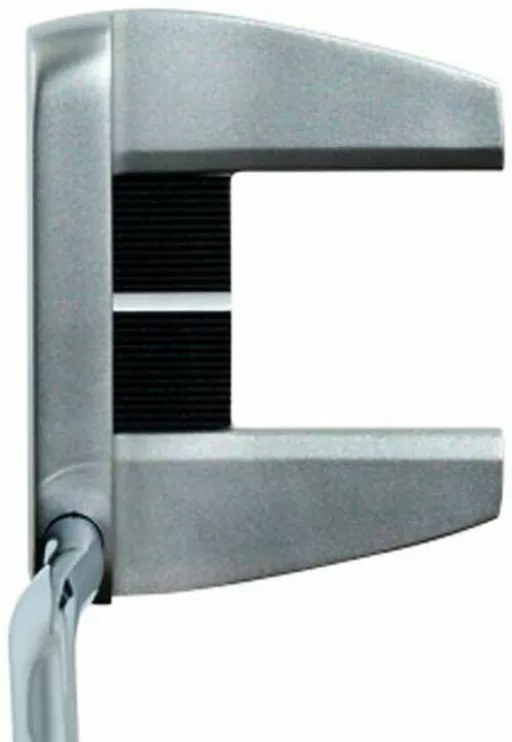 The Tour Edge Pure Feel Template series of putters are available in blade, mallet, and semi-mallet mallet designs.
Head Shape

Mallet

Toe Hang

Face Balance

Length

33" 34" and 35"

Shaft material

Alloy Steel

Hand

Right

Grip

PureFeel TAC grip
One of the most popular models in this series is the Alps model. Like the rest of the models, the Alps putter has a 304 stainless steel head and features micro-groove technology that delivers a softer feel on contact and minimizes skidding. The bead-blasted flange and topline minimize glare creating a better vision for golfers.
While the jumbo PureFeel TAC grip minimizes wrist pressure and enhances comfort when putting. It also eliminates head rotation and minimizes the uncomfortable grip pressure by promoting a natural grip position. The ultimate objective is to deliver utmost ease when putting.
Check Current Price
#5
MAZEL Tour GS Bat Putter
Striking Appearance & Well Balanced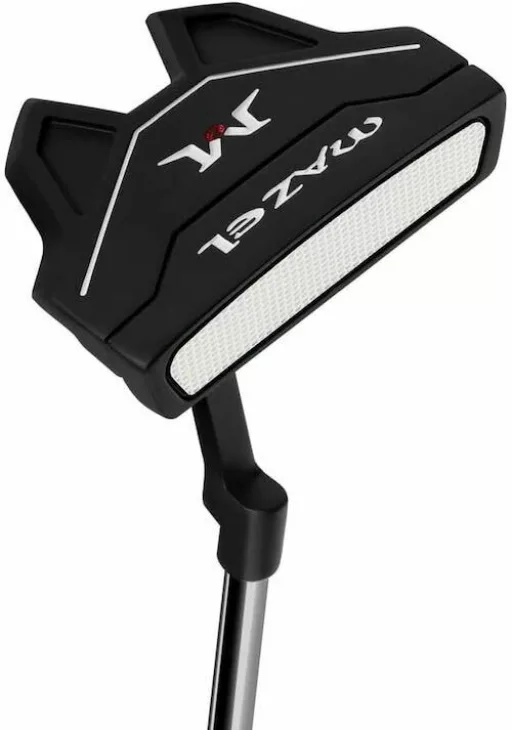 Another budget-friendly putter under $100 is the MAZEL Tour Bat Putter. This series is available in a wide range of head shapes and colors.
Head Shape

Mallet

Toe Hang

Face balanced

Length

35"

Shaft material

Steel

Hand

Right

Grip

Rubber
While Mazel is not a very popular brand among the pro players, it's very popular in the mass market. The brand has been operational since 2002 and the word 'MAZEL' means luck. This putter seeks to bring luck but most importantly consistent performance. It has a PU grip and a CNC milled face that delivers better balance and stability. The head has two red and white lines to aid in alignment.
When you hold this putter, you will notice that it feels quite solid and it's one of the most colorful putters. So, if you are looking for something that stands out, this series has something for you. The putter is well-weighted and doesn't feel too light or too heavy in your hands. Despite its pocket-friendly price, it putts exceedingly well.
Check Current Price
Buyers Guide for the best putter under $100
If you are on a quest to find the perfect putter under $100, here are a few factors to consider:
Blade Putter vs Mallet Putter
Over the years, putters have evolved. Today, there are plenty of designs available, however, the most used and popular are the blade and mallet putters.
From a design perspective, these are not sophisticated. Skillful golfers tend to lean more towards blade putters while mallet putters are ideal for beginners since they are highly forgiving.
The only problem with most blade putters is that they do not come with alignment lines. For this reason, putting with them is very easy. Regardless of that, they have a soft and friendly feel. If you master how to use them, you are likely to excel. On the other hand, most mallet putters have some of the best alignment features.
When it comes to stroke styles, you will find each one of these putters excels in a particular stroke style. It is hard to tell which putter will compliment your putting style until you test them. Trying both of them before settling on one is a good idea.
Length of the Putter
When it comes to choosing a putter, your height matters. If you are tall, a longer putter will feel more natural and comfortable. But if you are short, you need a shorter putter.
Putters come in different lengths. Standard putters are either 33, 34, or 35 inches long. Nonetheless, you cannot say that because you are tall, you automatically need a 35. The best approach is to try them all and pick the putter that feels more natural.
One Piece or Face Insert
Putters come in two distinct makes. Most putter faces consists of a face insert that could be made of various types of materials. The insert provides a unique feel and sound that some golfers prefer.
The one-piece is made from a piece of milled steel. It doesn't have any insert. If you like a putter that feels consistent, then a one-piece design may be ideal.
Price
The prices of putters vary. Golfers pay more for high-ended pieces. But if your plan to acquire an affordable putter from a revered brand, you can pick one from our list. These are the likes of Wilson, Odyssey, Cameron Scott, Ping, Mazel, and so on. For putters under $100, they are not the most advanced when it comes to design or technology. Luckily, they perform great.
Conclusion
The putters we have listed above are not only inexpensive but also favorites in their category. Regardless of whether you are a pro-golfer or an amateur, there is something for you. The Wilson Harmonized M5 putter is our fave. If you've never owned a putter before, you can't go wrong with the M5. That does not mean that the other putters aren't up to the task. You can pick any putter among them, and you will still be satisfied. Besides our guidelines, the right of choice for any of these putters is yours - go for a model that looks and feels good.
Frequently Asked Questions
Picking out a cheap putter as a beginner is important but can be intimidating, so we've the answered most common concerns for you to make a the best selection possible, brought to you by the experts on the Front 9 team.
The durability of putters hinges on several factors. These include how frequently you use your putter, your putting style, the material that your putter is made of, and how you keep it. Golfers who use a lot of force for long shots are likely to need new putters more frequently.

If you are gentle on your putter and you keep it well after use, it should last for a long time. That is if the quality is good. Using a putter regularly means that it will age faster. For this reason, you may need a new one sooner than you expect.

Although expensive putters tend to provide a superior quality than cheaper alternatives, putters are pretty much standard. What matters is your skill. You could have a high-end putter, and still perform poorly.

Back weighting has a myriad of benefits. First off, it raises MOI (Moment of Inertia). The right weight helps you to deliver slower and smooth strokes. It also promotes sound distance control. A good back weight reduces vibration and makes your putter feel more solid.
More about Putters you might also like: