The Best Scotty Cameron Putters: Our Top 5 Picks
Scotty Cameron putters for both beginners and professionals alike
Scotty Cameron Putters are among the most used putters in PGA Tours. They have been used by hundreds of pro players and won over 40 majors. Some of the top layers who have used a Scotty Cameron Putter include Tiger Woods, Rory McIlroy, Jordan Spieth, Justin Thomas, and Brooks Koepka.
Tiger Woods used a Scotty Cameron putter to win 13 of 14 majors. The popularity of Scotty Cameron's putters among professionals has also skyrocketed the popularity of these putters among recreational and everyday golf players.
This review has compiled the best Scotty Cameron putters on the market. Like all the rest of his putters, these putters are designed, milled, and built in the US. These putters feature some of the best designs and construction from one of the most prominent figures in the golf equipment industry.
Scotty Cameron built his first putter when he was 12. The brand's popularity skyrocketed when Bernhard Langer won the 1993 Masters Tournament using one of his putters. Today, the Scotty Cameron brand is part of Titleist.
#1
Titleist Scotty Cameron Select Fastback 2
Top Pick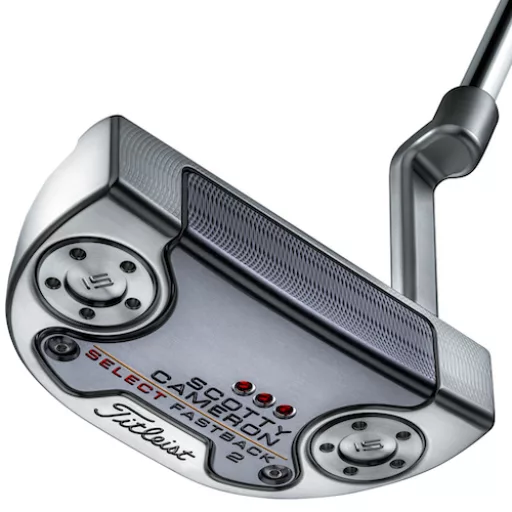 Our top pick for the best Scotty Cameron putter is the Select Fastback 2 Mallet Putter. It was released in 2018 and upgraded in 2019. The upgrade included a plumber neck configuration following requests by players.
Head

Mid mallet

Blade type

Toe-hang

Hand

Right

Length

33" and 34"

Shaft

Steel

Grip

Matador Midsize
Thanks to the perimeter weighted design, the Select Fastback 2 Mallet Putter has an optimized sound, feel, and balance. Most of the stainless steel material is around the perimeter, while the sole is made of lighter 6061 aircraft aluminum. This designs adds to the forgiveness and responsiveness of the putter.
The four-way sole balancing ensures the putter aligns perfectly and sits squarely when putting. The two stainless steel weights are customizable, while the stepless steel shaft improves the responsiveness. There is also a black sightline on the face to aid in alignment. Overall, this putter looks exceptional.
Check Current Price
#2
Titleist Scotty Cameron Phantom X6
The best of both Mallet and Blade Putters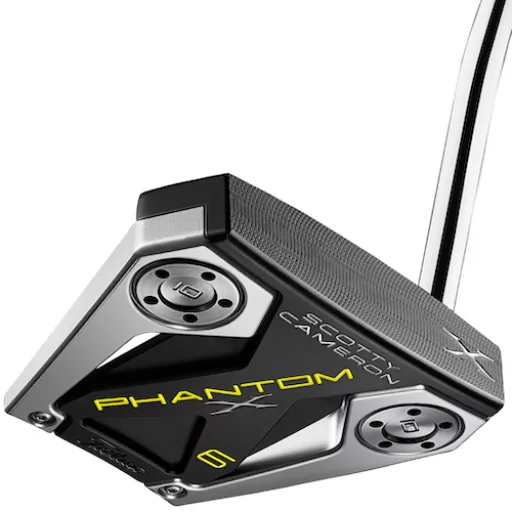 Our second pick for the best Scotty Cameron putter is the Phantom X 6, one of the 12 head models in the Phantom X series. The putters in this series blend the playability of mallet putters and the visual features of blade putters. If you are looking for a blade putter that looks like a mallet but performs like a blade, the Phantom X 6 will be a great pick.
Head

Mallet

Blade type

Face balanced

Hand

Right

Length

34", 35", 36"

Shaft

Steel Mid-bend shaft

Grip

Pistolero Plus grip
The first thing you will notice with the X 6 is the two sightlines and three dots that come in handy when aligning. The face is made using aircraft-grade aluminum. The head design is such that most of the stainless steel weight is around the perimeter. This helps in improving the stability and forgiveness of the putter. The X6 has a mid-bend shaft, while the grip is less tapered on the lower half.
Check Current Price
#3
Titleist Scotty Cameron Special Select Newport 2
Weight balancing creates stability and accuracy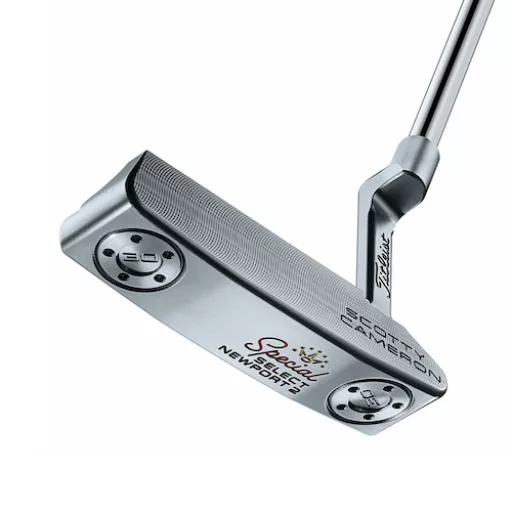 The Scotty Cameron Special Select Newport 2 is a redesigned and improved version of the Newport 2, which is probably Scotty Cameron's most decorated blade putter of all time. Just like all the previous redesigns, the result is not a complete design overhaul, only tour-inspired subtle modifications to help push the legacy that this model has made.
Head

Blade

Blade type

Mid toe hang

Hand

Right and Left

Length

33", 34", 35"

Shaft

Steel

Grip

Pistolini Plus
The Scotty Cameron Special Select Newport 2 is insert-free with a mid-milled face pattern and a raw stainless steel finish that looks immaculate. Unlike previous designs, this one has a narrower and flatter topline and tungsten sole weights. There is also a redesigned plumbing neck and sightlines.
The performance balanced weighting system utilizes interchangeable sole weights. The weights enlarge the putter's sweet spot to increase its stability and accuracy. This putter feels great, aligns beautifully, looks excellent, and is dependable on the course.
Check Current Price
#4
Titleist Scotty Cameron Special Select Flowback 5
Exceptional grip and feel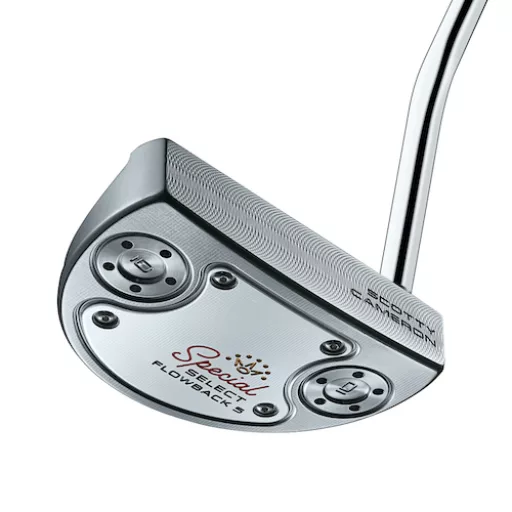 The Flowback 5 Putter is another great Scotty Cameron mallet putter from the Special Select Series. It has a full-shaft offset, and is the only model with a mid bend in this series.
Head

Mallet

Blade type

Near-face balanced

Hand

Right

Length

33", 34", 35"

Shaft

Steel

Grip

Pistolini Plus
Like the rest of the models, the Flowback 5 has the Performance Balanced Weighting design that utilizes customizable sole weights which allows you to tune the putter's feel and performance to your preference. It's made from 303 stainless steel giving you the consistent feel and sound of this material. A singular sightline on top makes it easier to align.
While the looks and designs are top-notch, the way this putter feels in your hands is exceptional. You will feel totally connected to the putter as your palm blends seamlessly onto the Pistolini grip. The feel totally explains why professional players go for premium brands like the Scotty Cameron.
Check Current Price
#5
Titleist Scotty Cameron GoLo 6
Unique design and shape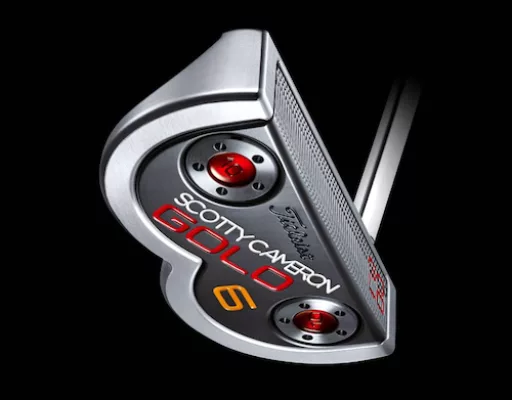 The GoLo 6 Putter is one of the five models in the GoLo Putter Series. The first thing you will notice is the B-shaped blade design. This shows how the brand is ready to try different designs as they try to build the best putters. This putter features a single bend, is milled from 03 stainless steel, and has an aluminum face-sole.
Head

Mallet

Blade type

Near Minimum

Hand

Right

Length

33", 34", 35"

Shaft

Steel

Grip

Matador Mid
There is also a raised aluminum alignment aid to help you align properly, which translates to more putts when combined with the high MOI. The face is made of aluminum and delivers decent feedback. The vibration dampening technology and advanced perimeter weighing design move most of the weight along the perimeter. This makes the GoLo 6 a great putter for beginners looking for a highly forgiving putter.
Check Current Price
Everything You Should Know About Scotty Cameron Putters
What is so special about a Scotty Cameron putter?
Scotty Cameron putters are special because of Scotty's reputation and the number of pro players who have used his putters. Scotty started helping his father make putters when he was six years old. He designed and built his first putter when he was 12. By the time he was 22, he had several pro players using his putters.
By 1990, PGA tour players were using his putters. Players who have used his putters include Tiger Woods, Thorbjorn Olesen, Rafa Cabrera Bello, and Rickie Fowler.
Are Scotty Cameron putters worth the money?
Absolutely - if you are a player who has used a wide range of putters, including cheap and premium models, you will easily feel and notice the difference. This is in terms of how the putter looks, feels, sounds, and performs.
While these putters will feel great for a beginner, you can't easily notice the "premium" in these putters. Unless budget is not a problem, we do not recommend getting a Scotty Cameron putter as your first putter.
Does Titleist own Scotty Cameron?
In 1994, one year after Bernhard Langer used a Scotty Cameron putter to win the Masters Tournament, Titleist exclusively contracted Cameron to make putters. Titleist is one of the brands under Acushnet Company that also owns FootJoy, PG Golf, Pinnacle, KJUS, and Vokey Design.
How much is Tiger Woods Scotty Cameron putter worth?
Tiger Woods' Personal Scotty Cameron Backup Putter that he used in 2002 was bought by a golf collector(s) for a whopping $393,300. The Scotty Cameron Newport TeI3 Teryllium used by Tiger Woods in 1997 Masters is touted to be the first 1 million golf collectible.
Why are Scotty Cameron putter covers so expensive?
Scotty Cameron putter covers are expensive because of the premium quality and rarity. You can only buy one Custom Shop cover per putter. There is also GOTTA HAVE IT covers that are also limited. That's why you will find these covers selling on different marketplaces for as high as $1000 per cover.
What is the most popular Scotty Cameron putter?
The most popular Scotty Cameron putter is the Scotty Cameron Newport 2 Putter. It's one of the most sought-after golf putters. While it was released in 1997, Tiger Woods began using the putter in 1999, adding to its popularity. The Newport 2 model is still available. It has been modified, but the iconic shape remains.
How many PGA Tour players use Scotty Cameron putters?
Hundreds of PGA Tour Players have used Scotty Cameron putters over the years and recorded major victories worldwide. These are the number of PGA Tour wins won using a Scotty Cameron putter:
2020-21 - PGA TOUR WINS: 18
2019-20 - PGA TOUR WINS: 10
2019 - PGA TOUR WINS: 15
2018 - PGA TOUR WINS: 17
2017 - PGA TOUR WINS: 20
2016 - PGA TOUR WINS: 18
Does Scotty Cameron make every putter?
While Scotty Cameron designs all of his putters, it's not possible for him to make each of the putters alone. To control production and quality, all Scotty Cameron putters are designed and built in California in the US. If you get a Scotty Cameron putter that has been shipped from any other country, it's probably counterfeit.
How many majors have been won with a Scotty Cameron putter?
Over 42 major titles have been won with a Scotty Cameron putter. For instance, Tiger Wood used the Scotty Cameron Newport 2 GSS putter to win 13 of his 14 major wins.
Conclusion
These five putters represent some of the best of the best. They have been tried and tested on tour and designed by one of the greatest to ever make golf clubs. If you are looking for excellence in a putter, one of these will certainly do the trick for you, so why not have a look at a putter that has almost certainly served one of your golf idols.
Frequently Asked Questions
We've put together some additional information that you might find interesting. Considering the craftsmanship and attention to detail that goes into these clubs, it;s worth considering every possible feature to find the one that is the best fit for you.
Yes, Scotty Cameron makes left-handed putters, but they are hard to find. Most models are not available in the left-hand version, although PGA players get all the variations they need. We wish left-hand versions were available, even if at a higher price.

To wash a Scotty Cameron putter, gently wipe using a soft cloth and soap to avoid scratching the milled steel surface.

Scotty Cameron is located in California, USA. The Scotty Cameron Gallery is also in California and it's open to the public, Tuesday through Saturday. They also have putter fitting, booking for $350 per session.

1st of 500 on a Scotty Cameron putter means the putter is one among the first 500 putters released for that model.

SSS on a Scotty Cameron putter stands for Surgical Stainless Steel while GSS stands for German Stainless Steel. Most Scotty Cameron putters are made of SSS.

All Scotty Cameron putters are milled from 303 stainless steel. The benefit of a mill putter is that the integrity of the steel remains intact. Also, milled putters are mostly handmade and demand individual attention.

The rarest Scotty Cameron putters are the models used by pro players to win majors. They include Scotty Cameron Tiger Woods Stainless Limited Edition, Tiger Woods' GSS Newport 2, and 2002 Scotty Cameron Tiger Wood's Backup Putter.
More about Putters you might also like: