The Best Budget Wedges Under $75
Looking for budget wedges under $75 without compromising quality? Here are some of the best affordable wedges that can make a huge improvement to your golfing prowess.
Most golfers consider a putter or driver as the most valuable clubs in their set of golf clubs. But wedges are equally important especially during a round of 18 that requires a short approach shot. Wedges have the highest loft among golf clubs starting at 45 degrees (pitching wedge) up to 64 degrees (lob wedge) for a higher ball trajectory.
They are designed for strokes played out of sand, pitch shots and chip shots or any other shot that requires the ball to ascend or descend sharply. There are four types of wedges (gap wedge, lob wedge, pitching wedge and sand wedge) each with a different loft, bounce, finish and grinds.
Since the short game accounts for more than half of the shots you take in a round, refining your wedge play helps you shoot a lower score. This post covers seven best budget wedges under $75 that are most popular and effective.
#1
Wilson Harmonized Golf Wedge
A great option for people who are new to golf or golfers with a limited budget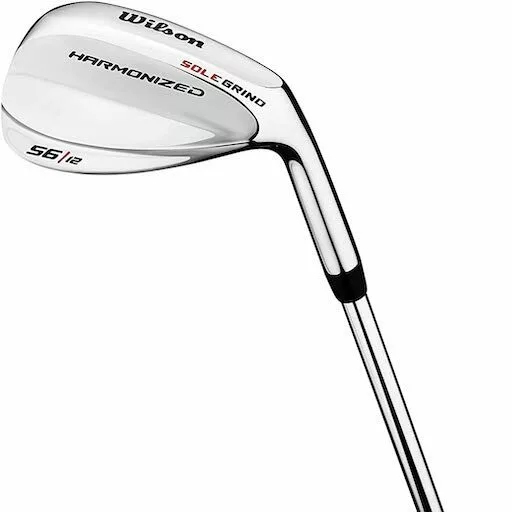 The wedge has a new innovative sole grind design that helps golfers open the club face for higher accurate shots and also getting underneath the ball on tough sand bunker shots. It is made using True Temper steel irons while the shaft is made of alloy steel. It features a classic design on its blade shape with improved bounce angles that provide versatility and dead stop spin when taking tricky shots.
Highlights
Excellent value for money
Provides greater forgiveness
Extremely durable and versatile
Offers better accuracy
Looks professional, shiny and sleek
Wilson Harmonized golf wedges come in five different lofts (50, 52, 56, 60 and 64 degrees) and are also available in right-hand and left-hand though not all lofts have the latter. New ones can cost anywhere between $30 to $40 depending on the seller
Check Current Price
#2
Pinemeadow Golf PGX Wedge
The Pinemeadow Golf PGX wedge was designed to give players maximum spin around the greens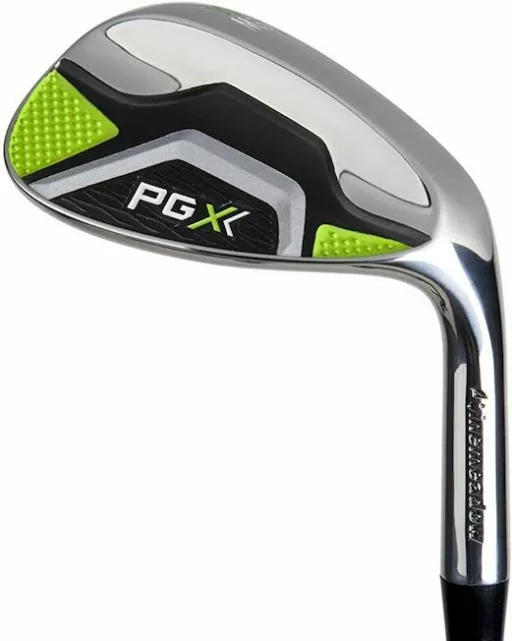 Equipped with a steel shaft and a standard Pine meadow grip that maximizes comfort and feel, the Pinemeadow golf PGX has a wide midsize sole at the bottom of the club head to provide accurate play during launch. The wedge features "U" Groove technology that provides maximum forgiveness, spin, and control around the green.
Highlights
Left and right-handed clubs are available
Excellent 12-degree bounce
Very forgiving
Responsive upon impact
Affordable pricing
The wedge only comes in two loft sizes, 56 and 60 degrees with each club measuring 37.5 inches. However, there are no left-handed styles available in both lofts and must be bought separately since they are not available in the PGX Complete Golf Club Set. Pinemeadow Golf PGX Wedge is a great bargain with a price ranging between $20 and $50. It is one of the cheapest high-quality wedges on the market.
Check Current Price
#3
Tour Edge Bazooka 1 Out
Meant for more seasoned golfers who are familiar with counter-weight technology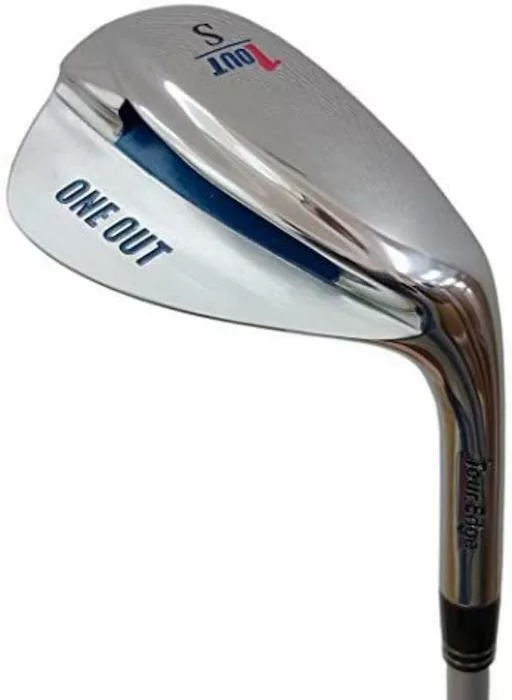 The Tour Edge Bazooka 1 Out sand wedge has a heavier club head that is counterbalanced by a heavy grip which improves chip shots and greenside bunker. To counterbalance the wedge, 90 grams of additional weight is added to the club's grip to counter the heavier head. The weighting increases stability by ensuring your wrist doesn't twist when you make contact with the ball.
Highlights
Designed to give a player maximum spin near the greens
Very hittable with extra wide sole for better launch
Extra-heavy head with counter-weight in grip
Tour Edge Golf One is currently available in a 58-degree loft and measures 35.25 inches with an 11-degree bounce. The wedge is currently not available in most markets but it has a fair price that ranges between $24 and $70.
Check Current Price
#4
Ray Cook Golf Shot Saver Alien Wedge
One of the best hybrid golf wedges for players who have limited funds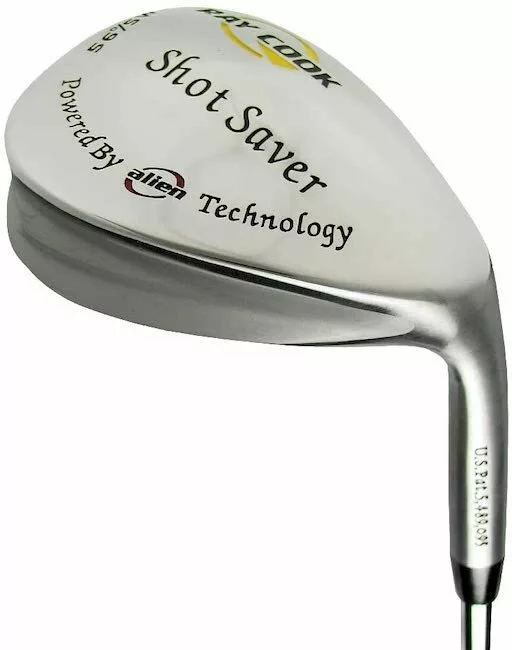 The club's head is made of bulky two-piece hollow stainless steel which means it will hit the ball at the right spot to generate more momentum. The wedge is designed to improve accuracy than average wedges by ensuring your wrist remains stable when the club's head comes into contact with the ball.
Highlights
The hollow stainless steel head increases momentum of inertia on impact
Wide sole enhances sand shot thanks to additional bounce angles
Chrome finish with a face that doesn't reflect sunlight
The shaft is stiff and made of light steel
The Ray Cook Golf Shot-Saver Alien Wedge comes in two loft sizes, 56 and 60 degrees. With a 16-degree bounce, the club is good for deep rough or soft sand traps and is notably cheap at $40 to $50.
Check Current Price
#5
Japan Pron TRG
Great for players who are improving from playing with a normal sand wedge to alternative clubs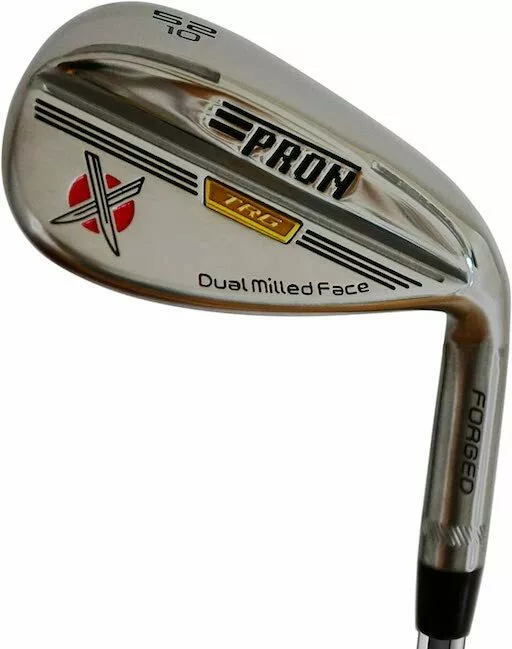 The club is made out of alloy steel and carbon iron with a chrome finish top that avoids sunlight reflection when hitting the ball to get a better launch. The Groove is slightly deeper than its USGA predecessor making every swing more efficient and also helps the golfer much easier.
Highlights
Great spin control
Catches tight onto the ball
Easy to use
Japan Pron has a three years guarantee with a 45-day free return and exchange service. The club is available in four loft sizes, 52, 56, 58 and 60 degrees and are sold as a set of three or more for between $100 and $300.
Check Current Price
#6
Kirkland 3 Piece Wedges
For golfers who are looking to fill gaps in the bottom of the bag in an affordable way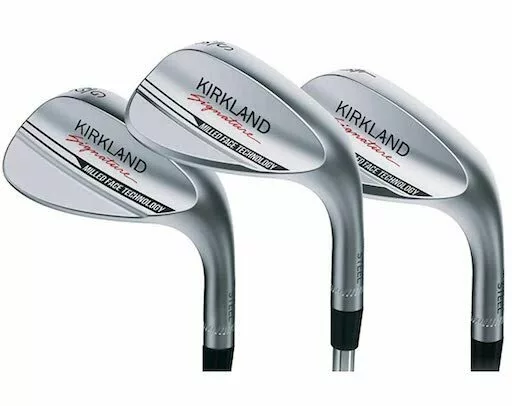 A simple, classic aesthetic with a chrome finish, the wedge flex shaft is made by True Temper Milled face technology in the USA to provide accuracy and enhance playability. For consistency and overall uniform feel, Kirkland used a carbon steel formula and other quality materials.
Highlights
Simple, classic aesthetics
Impressive levels of spin
Greenside versatility
Solid feel and soft-ish sound
The club comes in a set of three one 52-degree gap wedge, one 56-degree sand wedge and one 60-degree lob wedge. The three-piece set will set you back between $130 and $160 which is lower than $75 for a single club.
Check Current Price
#7
Pinemeadow Pre-Wedge
Designed for right-handed men who are novices or beginners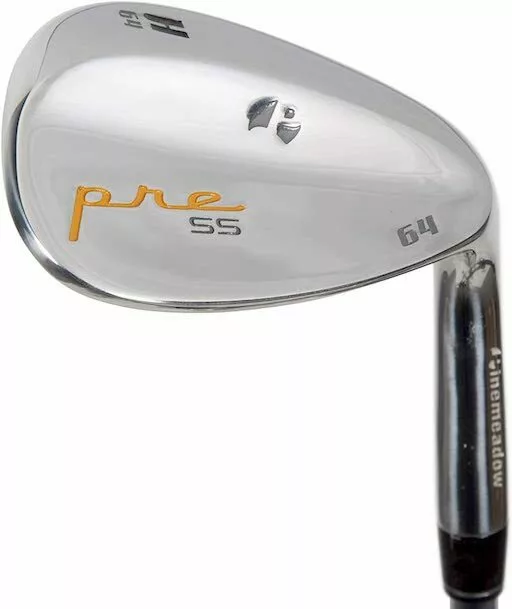 Pinemeadow Golf Men's Right Hand Pre-Wedge is excellent at close-in shots. The narrowing sole design provides maximum forgiveness when taking a shot. The shaft is made of Apollo steel which offers a combination of higher ball flight and medium-high trajectory with a 12-degree bounce. The club's face features u-groove technology meaning it is deep and shallow ensuring that there is no debris when the wedge hits the ball.
Highlights
Perfect for beginners
User-friendly and easy to use
Lots of loft options available
Sleek style due to stainless steel finish
The wedge was made for men and women using the wedge could find its length and flex challenging. Pinemeadow Golf Pre-Wedge comes in four loft sizes, 52 degrees, 56 degrees, 60 degrees and 64 degrees with a one-year warranty . The club is among the cheapest wedges in the market selling at $25 to $35 for each piece
Check Current Price
Conclusion
With these seven cheap golf wedges you can improve your golfing prowess at an affordable price. Most of these wedges come in different loft sizes and are designed to provide the player with a more accurate shot.
Frequently Asked Questions
Picking out a cheap wedge as a beginner can be intimidating, so it's best to consider a few basic factors to get the most bang for your buck. We've collected answers to the most common concerns when making a selection, brought to you by the experts on the Front 9 team.
The most important thing to consider when buying wedges is how much gaps and lofts you want to leave between your wedges. This affects the number of wedges you need and ultimately the price you might pay for the wedge. You should also check bounce, sole grind, finish and forgiveness before purchasing a wedge.

The best wedge to purchase for beginners and high handicappers is a sand wedge which is perfect for hitting the ball over bunkers around the green, short bunker shots and within 80 or 90 yards.

The majority of golfers will agree that a club with around 56 degrees of loft is going to be best for chipping shots because it has the right amount of height, spin and maneuverability.

For golfers with a very fast swing speed, you will likely be able to hit a pitching wedge about 150 yards while average swingers can hit their pitching wedge about 120 yards and 100 yards for slower golfers.
More about Wedges you might also like: