The Best Pitching Wedges: Our Top 9 Picks
Looking for the best pitching wedges? These are our top picks for all levels of players including high and mid handicappers.
For seasoned golfers, wedge shots are every bit as crucial as the all-important putting stroke. And there is much more to pitching than merely making solid contact. To make beautiful pitch shots that soar and land the ball close, you need to control the distance and touch to a certain degree.
Yet you're only as good in the pitching game as the quality of the pitching wedge clubs you use. So, if you want to get the most out of your pitching strokes and make sure you are always on target to putt, you need a well-made rock-solid pitching wedge that will match the strokes at hand and most importantly stand up to all the rigor of serious play.
Although the pitching wedge is often included in a typical set of iron, you may want a premium quality piece that can match your golf set and suit your swing. The challenge is that every time you search for the best pitching wedges in the overcrowded market, the countless options that pop out can be overwhelming. Thankfully, with lots of experience, our review team invested time and effort to test, research, and analyze pitching wedges. Ahead, we bring you our test winners.
#1
Callaway JAWS MD5
Designed by Roger Cleveland, our top pick is without a doubt one of the best all-around wedges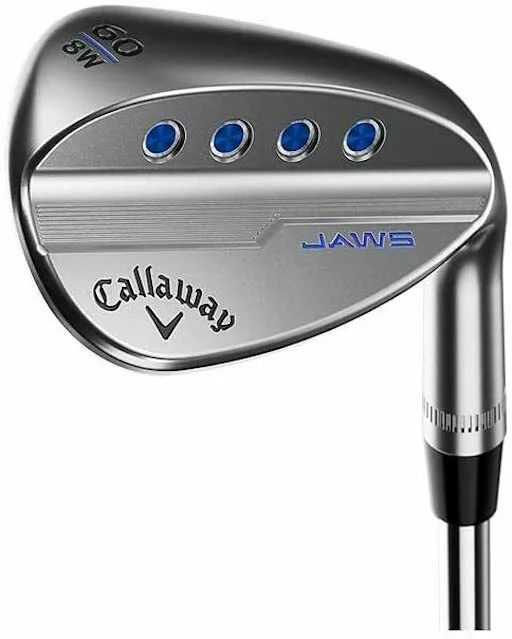 The Callaway JAWS MD5 is available in a wide range of loft and bounce combinations, 5 grind options, and 3 finishes making it suitable for all handicap levels. Unlike the MD4 version, which had grooves designed with a 5° wall angle, the MD5 has an aggressive groove design with grooves at a 37° wall design to deliver more spin, especially for short-game shots. That's 32 more degrees!
The wedge also features mini grooves (offset Groove-In-Groove technology), which when coupled with the groove design, provides 84 contact points.
The Callaway JAWS MD5 features a low bounce W Grind available on 58° and 60°, an updated C Grind on 54°, 56°, 58°, and 60° lofts.
Check Current Price
#2
Callaway JAWS Full Toe
Designed to give golf players control on all wedge shots from the pitch, chip, bunker, to flop shots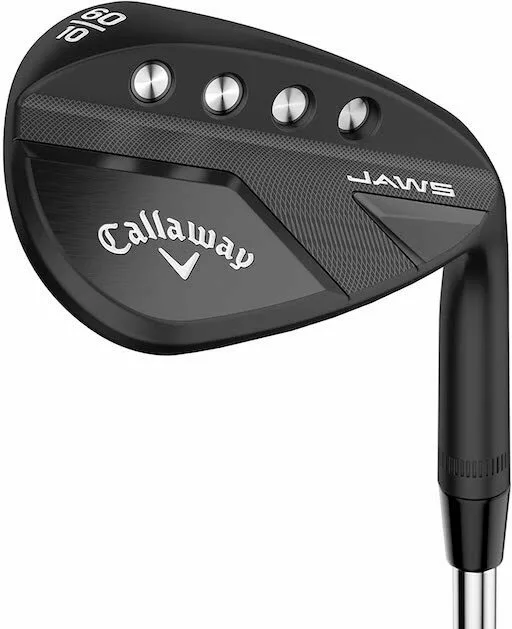 Callaway says the JAWS Full Toe Raw Face Wedge is a spin machine. Made to meet the demands of Tour players, this wedge is a bit taller and has a large face than traditional wedges, also making it one of Callaway's most advanced wedges. While the Full Toe design can be intimidating to beginners and those used to traditional wedges, it is usable by a wide range of players including beginners.
The JAWS Full Toe Raw Face Wedge features a raw face, Jaw grooves across the face, and the renowned offset groove-in-groove technology delivering a bigger surface which comes in handy when playing out of a bunker.
The JAWS Full Toe Raw Face Wedge is available in (54°L, 12°B), (56°L, 12°B), (58°L, 10°B), (60°L, 10°B) and (64°L, 10°B) loft and bounce combinations. It's only available in C Grind.
Check Current Price
#3
Titleist Vokey SM8 Wedge
The list of the best pitching wedges can't be complete without the Vokey SM8 Wedge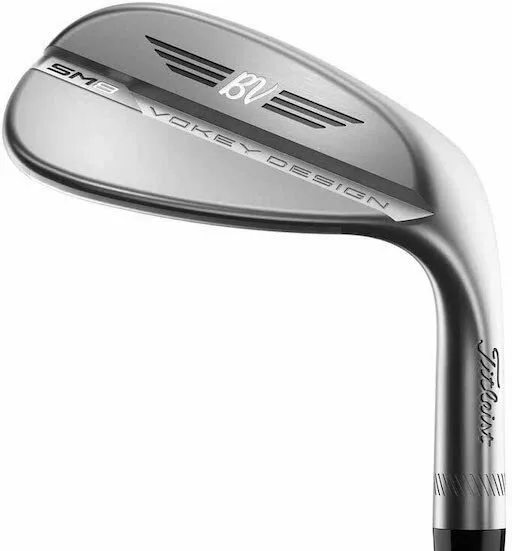 If you have been keen on the previous Vokey models (the SM6 and SM7) Titleist has been paying a lot of attention to the center of gravity (COG), and we expected this to continue with the SM8.
With the SM8, the CoG hovers in front of the wedge face resulting in better distance and stability. This makes this wedge the most forgiving and accurate Vokey wedge you can get. The wedge features 100% Inspected spin milled grooves meticulously cut to even tighter tolerances for more spins.
What's more, its longer hossels and high-density tungsten help fine-tune the center of gravity location, offering more consistent and controlled shots. The wedge is available in four finishes.
This wedge is available in 6 sole grinds (F, M, S, D, L, and K) and 46°, 48°, 50°, 52°, 54°, 56°, 58°, 60°, 62° left, and right lofts.
Check Current Price
#4
Taylormade Milled Grind 3
TaylorMade was only known for its drivers but now has some of the best wedges on the market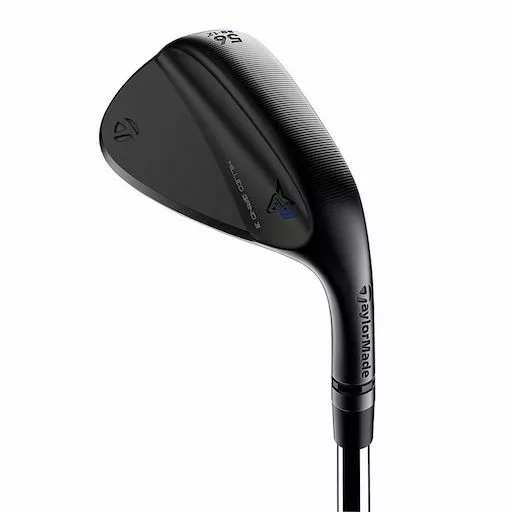 Another contender for the best pitching wedge is the Taylormade Milled Grind 3, an updated version of the MG2. The teardrop-shaped MG3 features the same raw face and milled saw in MG3 but now has micro ribs and is available in 2 finishes. If you are a fan of unplated faces that rust over time, you will love this wedge.
This wedge delivers elite performance when it comes to spinning thanks to the raised micro-ribs, raw face, and grooves. As the name suggests, the sole of this wedge is milled for maximum consistency. It's available in standard bounce (46° - 60° loft), low bounce (56°, 58°, 60° loft) and a high bounce (52°, 54°, 56°, 58°, 60° loft) There is also a Tiger inspired Grind (56°, 60 ° loft)
Check Current Price
#5
Cleveland RTX ZipCore
Features a low-density core which greatly affects the CoG adding to the wedge's stability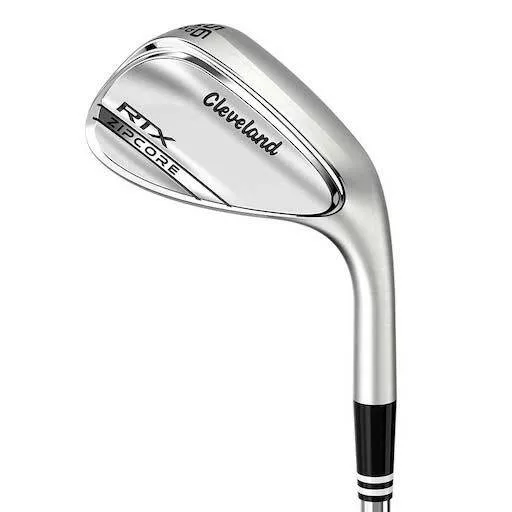 The Cleveland RTX ZipCore takes after the RTX4 but promises better performance on the course. The wedge features UltiZip grooves that are 7.3% deeper, 11% sharper, and 7.3% closer than the earlier generations, resulting in more spin. These grooves have been heat-treated for maximum durability.

These wedges are available in 3 sole grind options and customization options. The grind options are low, mid, and full. The c-shaped low sole grind is ideal for open face shots on medium and firm conditions while the v-shaped mid-sole is ideal for players looking for an all-around wedge.
The full sole grind is perfect for rough and bunker shots thanks to the extra bounce. The wedge is available in 46° to 62° lofts (increments of 2°).
Check Current Price
#6
Cleveland CBX ZipCore
If you are a fan of cavity-back irons owing to their forgiveness, you will love the CBX ZipCore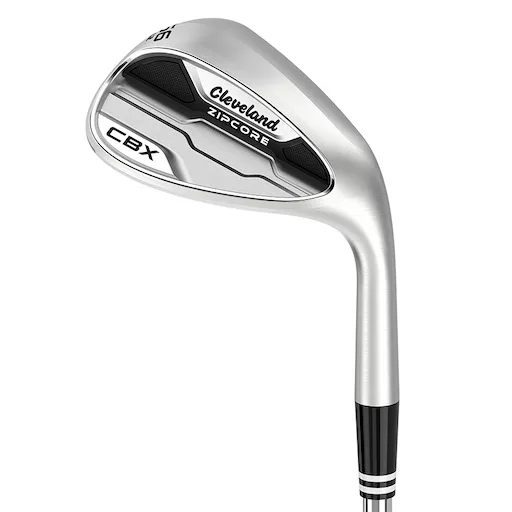 This is a cavity-back wedge which is the 3rd iteration of the popular CBX wedges featuring a more forgiving face and sole. A low-density core shifts the COG and boosts the MOI and a TPU insert to dampen vibrations. It also has UltiZip Grooves that are deeper, sharper, and closer resulting in more spin. It is available in a wide range of lofts from 44° to 60° at 2° increments.
The Cleveland CBX ZipCore is available in 3 sole grinds: V-Shaped (44° to 52° Lofts), S-Shaped Sole (54° to 56° Lofts), and C-Shaped Sole (58° to 60° Lofts). If you are looking for one of the most forgiving pitching wedges, this our recommendation.
Check Current Price
#7
Cleveland Golf CBX 2
Cleveland Golf routinely scores in the equipment department and they nail it again with the CBX 2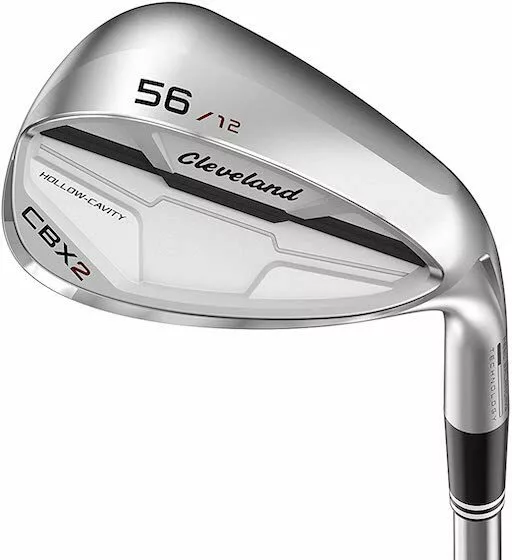 The CBX 2 wedge is an all-around short game golf wedge designed to offer extra forgiveness without giving up the spin and control. The company offers this piece in 50°, 52°, 54°, 56°, 58°, and 60° loft variants. Depending on your preference, you can also opt for an alloy steel shaft or graphite shaft.
The shaft has a hollow cavity which places more weight on the clubhead. As a result there is added forgiveness on impact, increased stability, and effortless hitting of the ball without using much power and energy. Perfect for the newbie golfer.
What's more, the CBX 2 wedge comes in two sole grinds, the V-shaped sole for easily getting through turf during full shots, the S-shaped sole that helps you get out of the sand or deep rough, and the C-shaped sole that allows for adjustment.

Not to forget the laser milling and Rote face design, which includes grooves on the face that increase friction and improve spin and short game control.
Check Current Price
#8
Ping Glide 3.0 SS
A more forgiving and high spinning lightweight wedge that meets demands, including Tour Players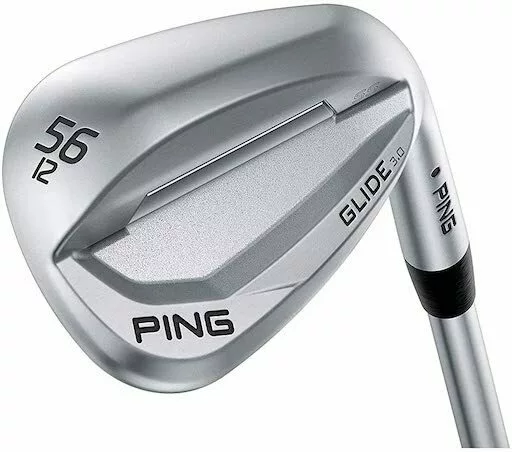 Ping seems to be serious about coming after the competition with this one, completely redesigning the Glide 2.0 with this wedge. The teardrop-shaped Glide 3.0 features a compact head size, cavity back design, and has a brushed silver finish. It also has an elastomer insert to dampen vibrations and precision-milled Grooves. While each wedge features grooves, they are designed differently. For instance, lower loft wedges have less aggressive grooves compared to the high lofted Glide 3.0 wedges. This makes the lower loft wedges ideal for full shots and higher lofted wedges for partial shots thanks to their enhanced spin.
This wedge is available in 4 grinds. The standard sole (46°, 50°, 52°, 54°, 56°, 58°, and 60°) thin sole (58° and 60°) wide sole (54°, 56°, 58°, and 60°) and Eye2 (54°, 56°, 58° and 60°. If you are looking for one of the highest spinning wedges, this will be a smart pick.
Check Current Price
#9
Mizuno T22
A forged pitching wedge that stands out from the brand offerings of Cleveland, Vokey, and Callaway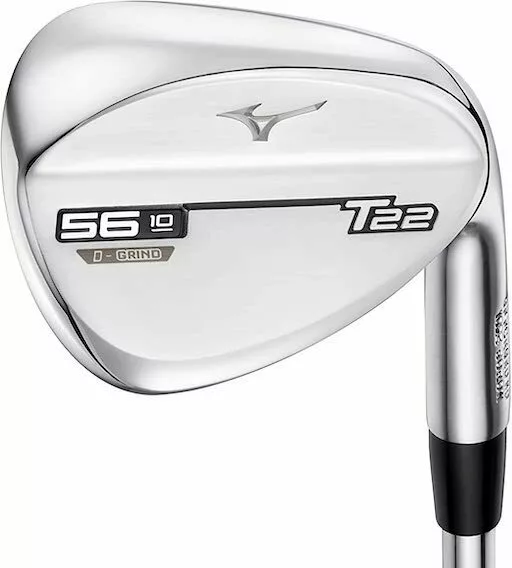 Our last pick for the best pitching wedge is the Mizuno T22, available in either chrome, copper, or raw finish. Except in the raw finish models, there is a copper microlayer beneath the top finish that ensures maximum feedback
The Mizuno T22 Wedge is available in 4 sole grinds namely S Grind, D Grind, C Grind, and X Grind. The S Grind is ideal for full shots, C Grind is ideal for skilled players while X Grind is the best for the short game.
This wedge is available in 18 loft options from 45° to 62° in increments of 1°.
Check Current Price
Conclusion
A good pitching wedge rod does not guarantee success and accurate shots every time, but including one in your golf bag will add a great deal to your ultimate golfing performance. Feel free to add to your cart and try that one option out that caught your eye - and maybe get to enjoy the same experience as your golfing idol.
Frequently Asked Questions
What to Consider When Buying a Pitching wedge
The pitching wedge is a golf club whose primary purpose is to make full shots into greens and longer chip shots. The pitching wedge (PW) is the most common and basic wedge.

The loft of a golf club is the angle between the clubface in relation to the shaft. The loft determines the distance the ball will travel and its probable trajectory. A pitching wedge is designed to get under the ball on contact and lift the ball onto the air. Ideal pitching wedges have a loft of between 44° and 49°. The higher the loft, the more elevation on the shots you make. So, higher lofts give you higher ball flight but with less distance traveled. Once you hit the ball with a pitching wedge, you expect it to travel between 100 – 125 yards.

Bounce can be described as the section of your club that hits the turf. Also, it is the amount of repulsion your wedge club experiences once in contact with the playing surface. The bounce comes into play when playing on fluffy turf/sand. When the club meets the playing surface, it is likely to dig deep into it and slow down the wedge club.

Pitching wedges should have a low bounce and narrow to medium depth. So, look out for PWs whose soles are designed with elements such as sole width, bounce angle, and leading-edge, all meant to prevent the club from digging into the playing surface.

The grooves are the tread-like engraving on the clubface. The grooves hold on to the ball just as the tire-treads grip the road. You want a pitching wedge with grooves to create the much-needed spin and produce the desired shot trajectory. Clubs with grooves also offer better stopping power once the ball comes to contact with the green.

Most PW shafts are steel products, meaning they can hold up to rough play for long years and offer more flex. However, if you are new to the sport or have small hands, steel wedges may feel a little too heavy. Thankfully, you can also opt for graphite shafts which are less durable and flexible but much lighter and easy on your hands.
More about Wedges you might also like: