The Best Wedges for High-Handicappers
Finding the right wedge will give you confidence and control
The challenge for most high-handicappers is trying to lower their score to at least mid-handicappers. A handicap is a numerical calculation of a golfer's on-course ability. The highest allowed handicap is 36 for men and 40 for women. But in most cases if you have a handicap of more than 20, you are considered a high-handicap.
Having the right wedge could help high-handicappers reduce their handicap and become a top golfer. There are many factors that you should consider before buying the wedge such as bounce, forgiveness, cost and durability. Additionally, most high-handicap golfers don't know where to start when it comes to buying golf wedges.
This post lists five wedges that will be great for high-handicappers who are looking to lower their scores.
#1
Cleveland CBX 2
A great choice for golfers looking for a wedge with spin and forgiveness.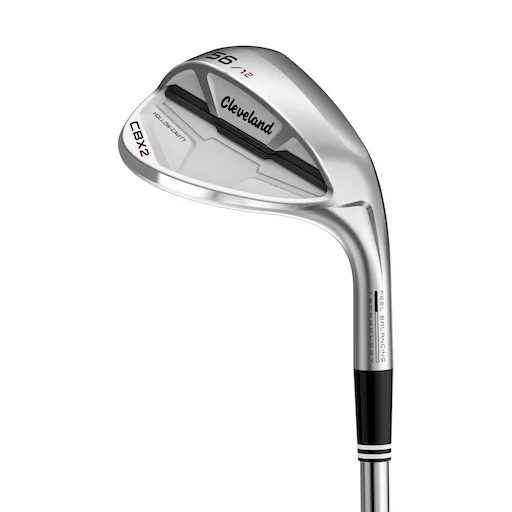 The wedge features a new Hollow-Cavity back design that moves the center of gravity to the point where you hit the ball which leads to a straighter shot that goes farther. The club has tour zip grooves and centered rotex milling enhances friction between the grooves for even more spin and short game control. Cleveland implemented feel balancing with versatile bounce and three different sole grinds that makes the wedge very forgiving.
Highlights
Off-the-chart forgiveness
Lighter stock shaft
Excellent all-round wedge
Surprisingly good spin rates
Nice shape with excellent weighting
For an amazing feel, Cleveland Golf CBX 2 uses enhanced feel balancing technology along with a GelbackTPU Insert which reduces vibration for a pure feel at impact. Cleveland Golf CBX 2 has many loft sizes that start at 46 degrees, 48, 50, 52, 54 56, 58, and 60 degrees. The shaft is made of alloy steel and has orientation for both hands with a lie angle of 64 degrees. The Cleveland Golf CBX 2 wedge will set you back between $55 to around $150 and is among the best-selling wedges on Amazon.
Check Current Price
#2
Callaway Mack Daddy CB
Designed for high handicappers who are looking for a forgiving club.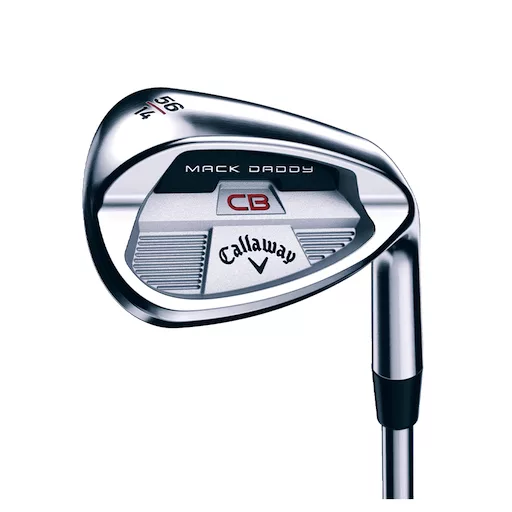 The wedge is a brand-new style from Callaway which features a hollow cavity back design which makes it very forgiving. It uses an innovative technology that combines different features to provide additional spin when hitting the ball. Callaway Mack Daddy CB has four sole grinds that are ideal for any type of shot on the green. The shaft is made of soft carbon steel and a club head that is balanced perfectly and improves turf interactions. The two sole grind options are for better consistency by creating easy, iron-like turf interaction. You can pick between a platinum chrome finish or the black matte finishing.
Highlights
Premium shafts and grips
Easy to use sole grinds
Helps golfers upgrade from cavity black irons
Groove-in-groove technology improves spin and control
Callaway Mack Daddy CB has a broad range of lofts (46, 48, 50, 52, 54, 56, 58 and 60 degrees) and bounce angle combinations (10 degrees to 14 degrees). Lofts between 45 degrees and 52 degrees have conventional grooves while lofts from 54 degrees to 60 degrees have full-face grooves. Their wedge has lady versions and has orientations for both hands. Callaway Mack Daddy CB wedge costs about $59 to $230.
Check Current Price
#3
Wilson Staff Harmonized
Ideal for newer or high-handicap players who want a great-looking and forgiving wedge.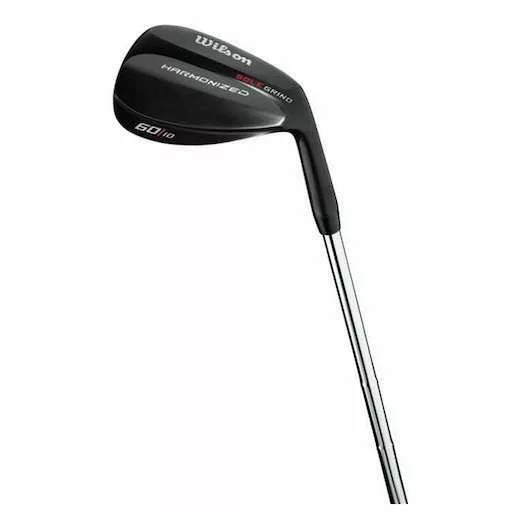 Features a unique sole grind design that allows players to open the club's face for improved performance on higher-lofted shots. The traditional shape along with its two finish options (Classic high polish and anti-glare black chrome) appeal to a wide range of high handicap golfers. This is because it helps golfers to have a clearer look at how the club head is set up. The head is made of carbon steel while the faces are precision-milled to make them more durable.
Highlights
Very easy to see without any glare
Simple loft options
Large sweet spot
Affordable pricing
The face has a high-density pattern that ensures that every shot has maximum spin and control which is what most high handicap golfers require to improve their game. The Wilson Staff Harmonized golf wedge is not offered in many grind or loft combinations, with only three types. There is the 52-degree gap wedge, the 56-degree sand wedge and the 60-degree lob wedge. The wedge is available in right-hand configuration only and has a price range of between $29 and $69.
Check Current Price
#4
Square Strike Wedge
Purpose-built for golfers that struggle with conventional golf wedges for chipping in pitching.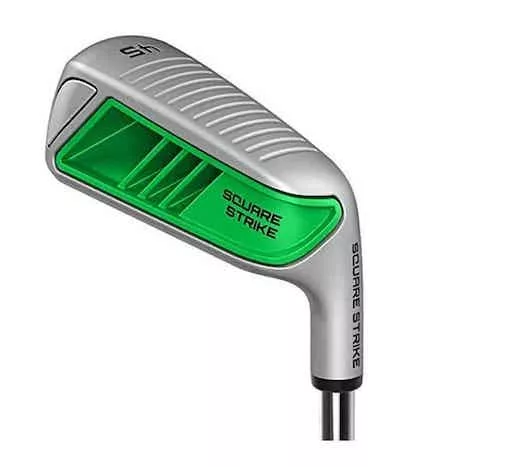 While using the square strike wedge, you no longer need to worry about hitting fat because it's sole is wider than average and the bottom of the club's face is beveled to reduce digging. The wedge has a solid feel thanks to additional weight. This increases confidence for the high handicapper especially if they were using wedges with slim faces that tend to rotate and dig.
Highlights
Anti-chunk sole
No-dig leading edge
Anti-rotational weighting
Precisely centred COG and high MOI
Square path graphics
The wedge measures 35.5 inches in length with a 68 degree lie angle and weighting that prevents rotation which makes it easy to use. However, you cannot open the club's face or stance to improve accuracy or control, it all depends on your stroke.
The square strike wedge performs well with chipping shots compared to a seven-iron because of its shorter length, there is no gripping down. The main cause of poor chipping shots is because some people twist their wrist or hand when taking the shot. Square strike places additional weight at the toe to address the issue of wrist instability during impact. The wedge is legal for tournaments and has a one-year manufacturer warranty. Square strike comes in three loft variations, 45 degrees, 55 degrees and 60 degrees with either black or green stainless steel. The square strike wedge costs around $40 to $163 and has both left- and right-hand orientation.
Check Current Price
#5
Cleveland CBX
An excellent all-round wedge that was made to take forgiving open face shots.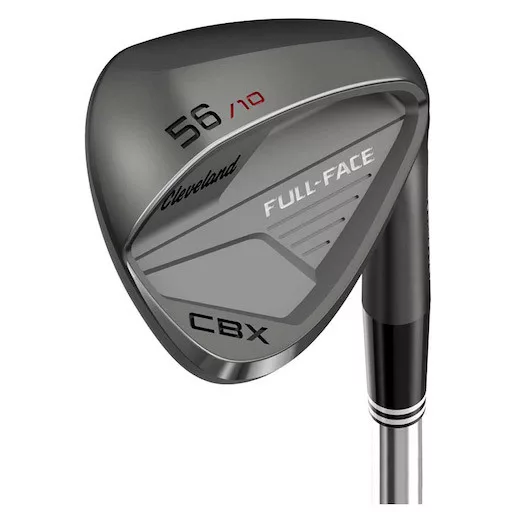 The wide sole and overall blade profile takes the fear out of flop shops which allows high handicap golfers to perform impressively. CBX Full-Face features a high toe for hitting open face shots with the extended portion of the toe. The entire face is laser and rotex-milled with tour zip grooves all around the contact area to provide aggressive spin and versatility.
Highlights
Great from a wide variety of lies, including sand and the rough
Incredible feel and forgiveness on off-centre-hits
The Cleveland CBX wedge is packed with innovative, helpful tech such as the Dual-V sole and Rotex grooves
If you catch this club out of the middle on the fairway, in the bunker or in the rough the ball will just go where you want it to.
It looks good in the bag; Cleveland just KNOWS how to make wedges. They build quality clubs that don't disappoint.
Cleveland Golf CBS has improved their forgiveness capabilities and feel by moving the cavity towards the heel. The sole is low and C-shaped to improve a high handicapper's open face shots and its shape ensures that the face is not obstructed and offers support to the toe and heel, allowing for unhindered face manipulation.

Cleveland golf CBX is available in four loft sizes, 56 degrees, 58 degrees, 60 degrees and 64 degrees with a bounce angle of ten degrees for all loft types. The shaft material is made of alloy steel or graphite and the wedge comes in a black satin color which prevents sunlight reflection during launch. A new Cleveland golf CBX full-face 6 RH black satin will cost you between $129 and $149.
Check Current Price
Conclusion
The majority of the wedges listed in this article will help a high handicap golfer with the opportunity to improve on their golfing prowess. The wedges are more forgiving which leaves little room for poor shots hence improving your handicap to mid or low handicap.
Frequently Asked Questions
These are some of the most common questions we're asked by golfers looking for the best wedges to improve their short game around the green.
In golf a high handicap golfer plays off of a 19 and above. 81% of female golfers fit into the high handicap bracket while only 25% of male golfers are in the bracket.

High handicappers should carry at least a 56-degree wedge. In addition, it makes sense to have a 53-degree wedge and a 60-degree wedge to have a variety of shots.

The K-grind wedge has the highest bounce wedge and is the ultimate bunker club and the most forgiving wedge in the lineup for all shots.

Most high-handicappers are sweepers which is why you need a wedge that has a bounce angle between four and six degrees. With such an angle it becomes easier to hit the ball in different grounds.
More about Wedges you might also like: