The Best Wedges for High-Handicappers
Elevate Your Game with Our Top 5 Picks of 2023
by Jake Tingey & Judd Lyon · Updated: 5/18/23
Jake Tingey, Golf Expert
Jake is a lifelong golfer who loves keeping up with the latest golf news and equipment.
Judd Lyon, Web Developer
Judd is the tech guy behind Front Nine Golf with a huge slice.
As recreational golfers, we understand the frustration of trying to improve your game. One area that can often be overlooked is the type of wedges you use. Choosing the right wedge can make a big difference in how you approach the green. That's why we've done the research to bring you the best wedges for high-handicappers in 2023.
Our team has extensively evaluated the market to bring you our top 5 picks. From cavity-backed to blade-style wedges, we've got you covered. These wedges have been chosen for their ability to help golfers of all skill levels improve their short game. Get ready to elevate your game and leave those pesky high scores behind.
Our Pick for Spin & Forgiveness
Cleveland CBX 2
A great choice for golfers looking for a wedge with spin and forgiveness.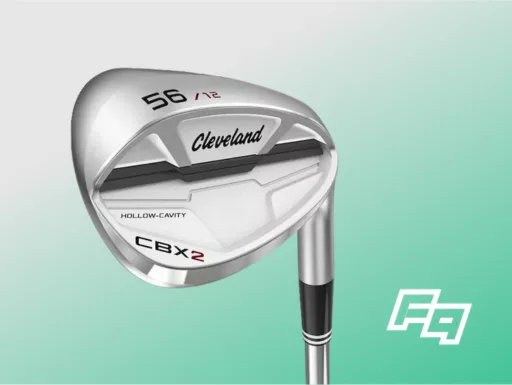 Check Current Price ↗
We love the Cleveland CBX 2 wedge for its combination of spin, forgiveness, and feel. With a Hollow-Cavity back design, the center of gravity is moved to the sweet spot for straighter shots that go further. The tour zip grooves and centered rotex milling provide maximum spin and control for your short game.

What We Like
Off-the-chart forgiveness
Lighter stock shaft
Excellent all-round wedge
Surprisingly good spin rates
Nice shape with excellent weighting
What Could Be Better
We also appreciate the versatility of the CBX 2, with different sole grinds and bounce options, this wedge is incredibly forgiving. The GelbackTPU Insert reduces vibration for a pure feel at impact, making this wedge a fantastic choice for golfers who value feel.
With a variety of loft sizes ranging from 46-60 degrees and a lie angle of 64 degrees, the Cleveland CBX 2 is suitable for both right and left-handed players. The alloy steel shaft adds to the wedge's durability, and the club's affordability, with prices ranging from $55 to $150, make it a top-selling option on Amazon.
Check Current Price ↗
High-Handicap Hero
Callaway Mack Daddy CB
Designed for high handicappers who are looking for a forgiving club.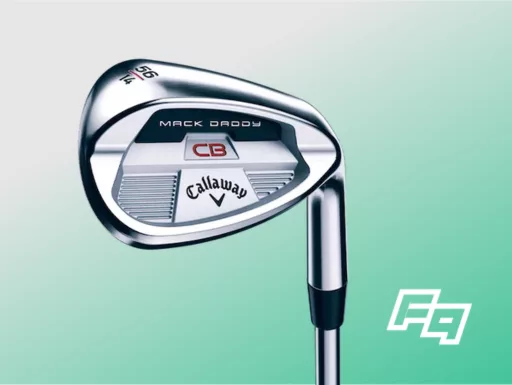 Check Current Price ↗
As golfers, we understand the importance of finding the right club that will make a difference in your game. The Callaway Mack Daddy CB Wedge is designed specifically for high handicappers who are looking for a forgiving club.

What We Like
Premium shafts and grips
Easy to use sole grinds
Helps golfers upgrade from cavity black irons
Groove-in-groove technology improves spin and control
What Could Be Better
Featuring a hollow cavity back design, the Mack Daddy CB Wedge provides maximum forgiveness and improved accuracy on the green. The innovative technology combines various features to give you additional spin and control on your shots. With four different sole grind options, this club is versatile and can be used for any type of shot.
The Mack Daddy CB Wedge is made with a soft carbon steel shaft and a perfectly balanced club head, making it easier to interact with the turf. The two sole grind options provide better consistency, giving you an iron-like feel on your shots. The wedge comes in a platinum chrome finish or a stylish black matte finish.
With a range of lofts from 46-60 degrees and bounce angle combinations from 10-14 degrees, the Callaway Mack Daddy CB Wedge is suitable for golfers with different playing styles. It's also available in lady versions and has orientations for both right and left-handed golfers. At a cost of $59 to $230, the Mack Daddy CB Wedge is an affordable and reliable option for high handicappers.

Check Current Price ↗
Best for Budget-Conscious Golfers
Wilson Staff Harmonized
Ideal for newer or high-handicap players who want a great-looking and forgiving wedge.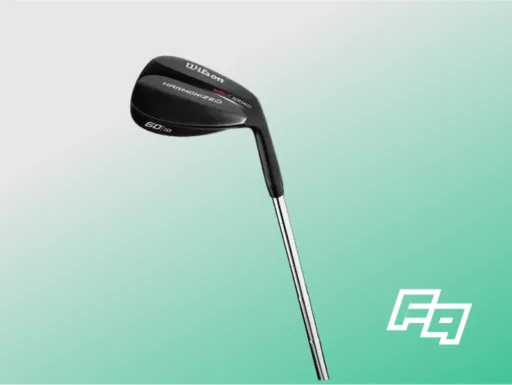 Check Current Price ↗
We recommend the Wilson Staff Harmonized Wedge for high-handicap golfers who are looking for a forgiving club with a stylish look. The unique sole grind design allows players to easily open the club face for improved performance on higher-lofted shots. With its traditional shape and two finish options (Classic high polish and anti-glare black chrome), this wedge appeals to a wide range of golfers. The carbon steel head and precision-milled face ensure durability and the high-density pattern on the face provides maximum spin and control.

What We Like
Very easy to see without any glare
Simple loft options
Large sweet spot
Affordable pricing
What Could Be Better
Only available in right-hand configuration
Only three types of lofts offered
The Wilson Staff Harmonized Wedge comes in three types: the 52-degree gap wedge, the 56-degree sand wedge, and the 60-degree lob wedge. Right-hand orientation only and priced between $29 and $69, this club is a great budget-friendly option for high-handicap golfers looking to improve their game.

Check Current Price ↗
#4
Square Strike Wedge
Purpose-built for golfers that struggle with conventional golf wedges for chipping in pitching.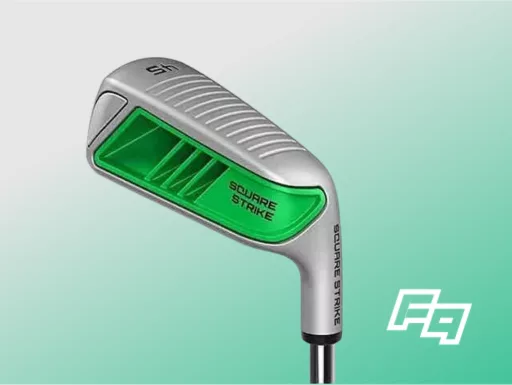 Check Current Price ↗
As golfers, we all know how frustrating it can be to struggle with conventional golf wedges for chipping and pitching. But with the Square Strike Wedge, those worries are a thing of the past. This purpose-built wedge is designed to help golfers overcome the challenges they face with standard wedges.

What We Like
Anti-chunk sole
No-dig leading edge
Anti-rotational weighting
Precisely centred COG and high MOI
Square path graphics
What Could Be Better
Limited face/stance adjustments
Wrist stability solely dependent on stroke
The Square Strike Wedge is great for golfers who struggle with conventional wedges. Its anti-chunk sole, no-dig leading edge, and anti-rotational weighting give the wedge a solid feel, reducing digging and promoting a clean swing. The precise center of gravity and high moment of inertia increase confidence for high handicappers. The wedge is 35.5 inches long with a 68-degree lie angle, making it easy to use and preventing rotation. The square path graphics make it easy to align shots.
The Square Strike Wedge is ideal for chipping shots compared to a 7-iron, with its shorter length and weight at the toe to address wrist instability during impact. It comes in three lofts and with black or green stainless steel options, is legal for tournaments and has a 1-year warranty. The wedge costs $40 to $163 and has left and right-hand orientation options. However, its performance depends on the golfer's stroke and they may be limited in their ability to open the club face or stance for improved accuracy.
Check Current Price ↗
Best All-Round Wedge for Forgiveness
Cleveland CBX
An excellent all-round wedge that was made to take forgiving open face shots.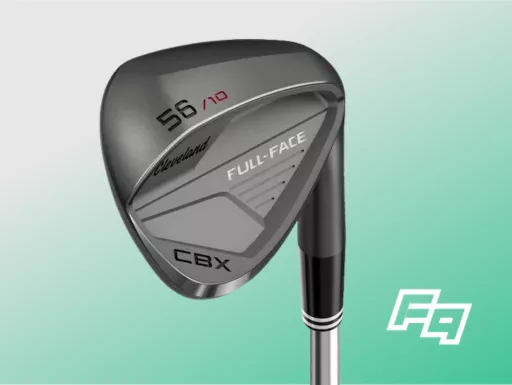 Check Current Price ↗
As a reviewer, we're impressed with the Cleveland CBX wedge's ability to take forgiving open face shots. The wide sole and blade profile make it easy for high handicappers to perform well, especially with the high toe designed for hitting open face shots.

What We Like
Great from a variety of lies
Incredible feel and forgiveness on off-center hits
Innovative tech
What Could Be Better
May not be affordable for all golfers
We love the innovative tech packed into this wedge, including the Dual-V sole and Rotex grooves for aggressive spin and versatility. Whether you're playing from sand, rough, or fairway, this club delivers where you want it to. Plus, Cleveland just knows how to make good-looking wedges.
The cavity towards the heel has improved forgiveness and feel, and the low, C-shaped sole supports the toe and heel for unhindered face manipulation. With four loft sizes and a ten-degree bounce angle, the Cleveland CBX is available in alloy steel or graphite shafts and a black satin color that prevents sunlight reflection.

Check Current Price ↗
High-Handicapper's Wedge Buying Guide
As a high-handicapper, finding the right wedges for your game can be a challenge. With so many options available on the market, it can be difficult to know which ones will help you improve your short game and lower your scores. That's where we come in! In this comprehensive guide, we'll give you all the information you need to choose the best wedges for your game.
Understand Your Game
Before you start shopping for wedges, it's important to understand your own game. What are your strengths and weaknesses? Do you struggle with chipping, pitching, or sand shots? Knowing your weaknesses will help you choose wedges that address those specific areas.
Loft and Bounce
Loft and bounce are two important factors to consider when choosing wedges. Loft refers to the angle of the clubface, while bounce refers to the angle of the sole. The loft determines how high the ball will fly, while the bounce affects how the club interacts with the ground. High-handicappers tend to benefit from wedges with more loft and less bounce. This will help you get the ball up in the air more easily and reduce the likelihood of digging into the ground.
Grind and Sole Design
Another important factor to consider is grind and sole design. A wedge with a wide sole and beveled leading edge will be easier to use in the sand or rough, while a club with a narrow sole will be better for firm conditions. A wedge with a C-shaped sole will be easier to open up and hit high shots, while a club with a V-shaped sole will be better for playing shots with a lower trajectory.
Shaft Material
Shaft material is another important consideration. Steel shafts are typically more durable and offer a better feel, while graphite shafts are lighter and easier to swing. Ultimately, the best shaft material for you will depend on your own preferences and swing style.
Length and Weight
Finally, it's important to consider the length and weight of your wedges. A shorter club will be easier to control and less likely to cause you to grip down on the club, while a heavier club will help you engage your arms and shoulders in your swing.
Conclusion
Choosing the best wedges for your game as a high-handicapper can be a challenge, but with the right information, you can make an informed decision. Remember to consider your own game, loft and bounce, grind and sole design, shaft material, length, and weight. With these factors in mind, you'll be well on your way to improving your short game and lowering your scores.
At Front Nine Golf, we're dedicated to helping golfers of all skill levels find the right gear for their game. If you have any questions or need help choosing the best wedges for you, don't hesitate to reach out to us.
Frequently Asked Questions
Looking for answers about high-handicapper wedges? We've got you covered! In this FAQ, we'll address some of the most common questions and concerns to help you make an informed decision when choosing the best wedges for your game.

High handicappers should carry a pitching wedge, sand wedge, and lob wedge. The pitching wedge is typically around 46-49 degrees, the sand wedge around 56-58 degrees, and the lob wedge around 60-64 degrees.

A high handicapper should carry wedges with lofts that fit their individual swing and the gaps in their set. A good starting point is a pitching wedge of 46-49 degrees, a sand wedge of 56-58 degrees, and a lob wedge of 60-64 degrees.

The easiest wedges to hit for high handicappers are those with a wide sole, high toe profile, and a cavity-back design. They are designed to provide maximum forgiveness and ease of use around the greens.


The most forgiving wedge grind is a wide sole and low bounce grind. This type of grind provides maximum surface area and helps prevent the club from digging into the turf, making it easier to hit shots from a variety of lies.

Yes, a high handicapper should carry a 60-degree wedge. The 60-degree wedge provides versatility around the greens and is ideal for high, soft shots and lob shots.

The easiest wedge to hit around the green is one with a high toe profile, wide sole, and cavity-back design. These features provide maximum forgiveness and make it easier for high handicappers to hit accurate shots from a variety of lies.
More about Wedges you might also like: