The Best Putter Grips: Our Top 9 Picks
Looking for a putter grip that works for you? Check out our list of the top nine best putter grips for golfing.
The grip is the only point of contact you have with the putter. Choosing the proper grip ensures a comfortable and effortless final stroke. This choice allows you to finish strong and confident in any game.
Many varied grip types affect the way you swing your putter. Everyone has different grip preferences. They will all be broken down so that you can find the best one to fit your needs.
Here are our nine best choices for putter grips and how they can improve your stroke.
#1 Best Overall Pick
SuperStroke Slim 3.0
This new version of the quality grip allows for a smooth and consistent stroke every time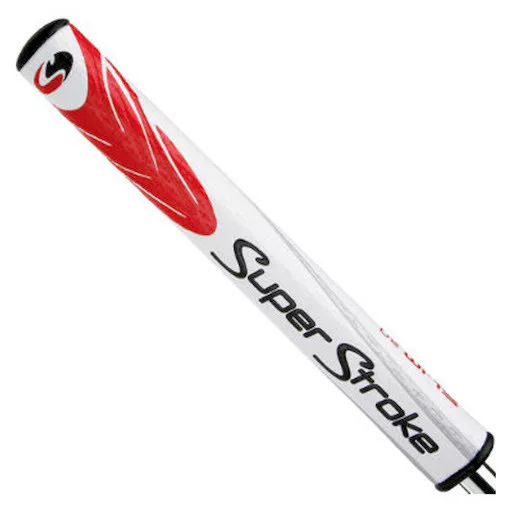 CounterCore weighing improves the path for a perfect stroke by reducing face angle rotation. The adjustable weight system allows the muscles to engage, creating a stable stroke.
Highlights
CounterCore
Cross-Traction Texture
Adjustable Grip Weight System
The cross-traction texture provides a non-slip grip, and the texture helps keep hold in all weather conditions. It is also great for preventing wrist tension and is available in all sizes.
Check Current Price
#2 Best for Consistent Shot
SuperStroke Traxion Tour 2.0
This grip by SuperStroke minimizes grip pressure and allows for a consistent stroke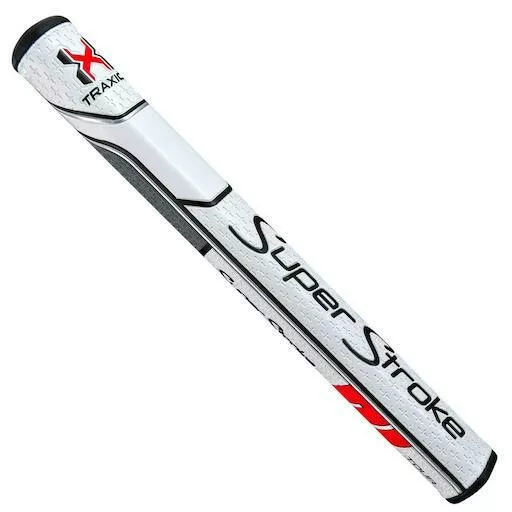 It offers an advanced surface texture design and adds playability.
Highlights
No Taper Technology
Spyne Technology
Traxion Control
Advanced Spyne Technology allows for better hand positioning resulting in a consistent shot.
Check Current Price
#3 Best for Feel
SuperStroke Traxion Flatso
The profile provides a flat grip that led Jordan Speith to three championship victories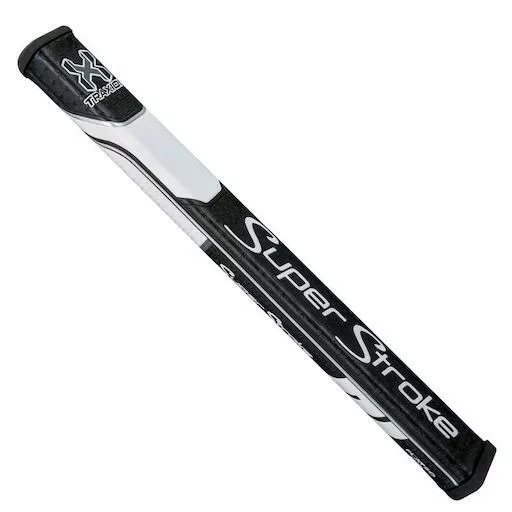 X-shaped treads found on the sides and bottom create a comfortable grip and feel. Easy hand placement is made possible by Spyne Technology.

Highlights
Traxion Control
No Taper Technology
Spyne Technology
The No-Taper Technology adds stroke consistency. It is available as an oversized grip and classic golf grip
Check Current Price
#4 Best for Performance
SuperStroke Traxion Pistol GT Tour
The Traxion Pistol GT grip has a traditional putter shape with incredible comfort and feel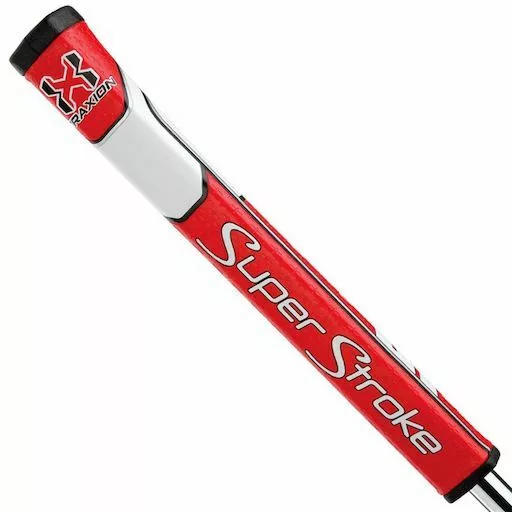 No Taper Technology provides even grip pressure for a consistent stroke.
Highlights
No Taper Technology
Traxion Control
Tech-Port
Tech-port accessories use the CounterCore weight system for advanced putting performance.
Check Current Price
#5 Best for All Weather
Winn Excel 17" Long Pistol
Designed to reduce hand fatigue and pain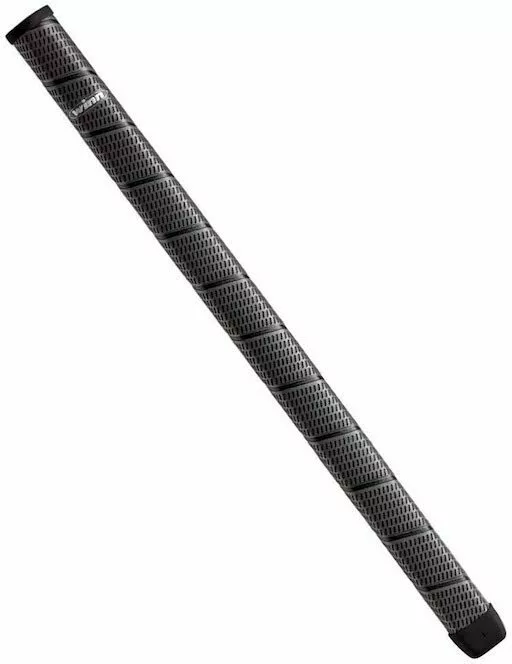 Polymer grips resist slipping and also last longer.

Highlights
Polymer Grip
Weather-Resistant
Counterbalance
Counterbalance allows for maximum stability along with a heavier grip. It is also effective in rainy conditions.
Check Current Price
#6 Best for Responsiveness
Lamkin Deep Etched
This tour favorite features softer material and a small profile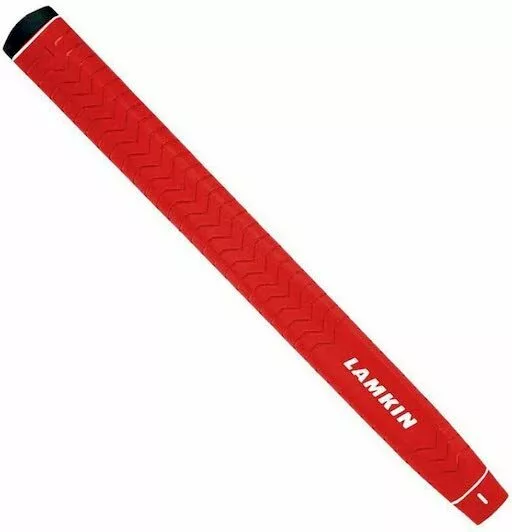 Genesis material provides a comfortable hold on your club. A slighter profile offers maximum responsiveness and swing speeds on the course.
Highlights
Genesis Material
Small Profile
Deep-Etch design
The Deep-Etch design is excellent for arc or arc-to-straight putting styles, and the paddle-style profile provides a tension-free stroke.
Check Current Price
#7 Best for Comfort
Golf Pride Tour SNSR 104cc Contour Grips
Pistol shape creates a consistent grip and stroke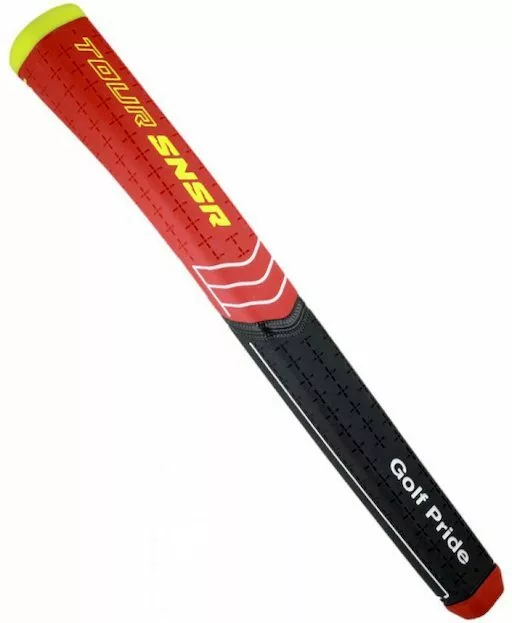 SNSR material is very soft and promotes lightened grip pressure. It is equipped with a wide paddle front for thumb placement and face alignment. An indent sits on the front of the grip, which allows the thumb to sit against it for added comfort.
Highlights
SNSR Material
Pistol shape
Maximum feedback
This grip is available in both 104cc and 140cc to fit most golfer's needs. The color options are red and blue or gray and black, and the grip is only available in standard grip size and oversize
Check Current Price
#8 Best for Stability
Iomic I Classic
Provides superior traction along with comfort and feel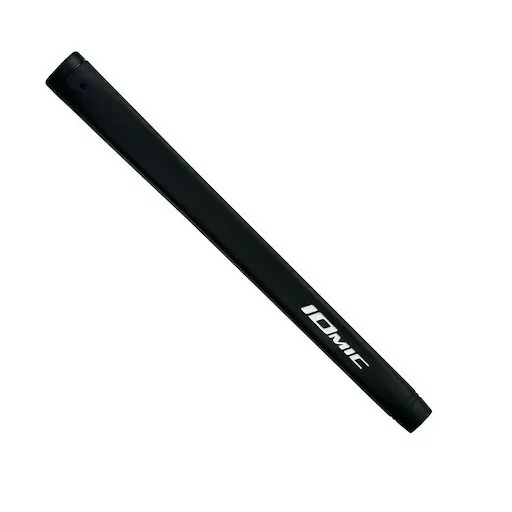 The grip has a smooth surface with sharp edges. A sticky pattern on the underside provides for excellent traction and control.

Highlights
Pistol shape
Sticky underside pattern
It also features an improved grip for stability.
Check Current Price
#9 Best for Grip
Pure Grip Classic
Provides light grip pressure with maximum responsiveness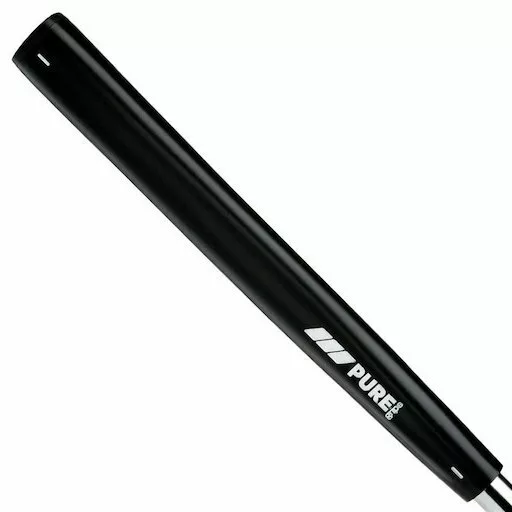 A smooth surface with round edges provides a comfortable feel. High water and heat resistance will prevent losing grip in humid conditions.
Highlights
Flat paddle design
PURE tack rubber
Small diamter
Many color options
Available in various colors, including:
Black
Driver white
Bogey red
Caddie blue
Pitch purple
Players green
Check Current Price
What You Should Look for When Buying Putter Grips
You will want to determine the perfect size of putter for your needs. These needs will come down to personal preference. The grip sizes you will find are:
Standard Size Grip: 0.58 to 0.60 in diameter
Midsize Grip: 1/16th inch larger than standard
Oversized Grip: 1/8th inch larger than standard
Undersized Grip: 1/64th inch smaller than standard
Size is required to make smooth and accurate swings. The fingers of your top hand should barely touch the palm of your hand when wrapped around the grip.
The larger the putter grip, the more feel you lose while putting. Those with less hand and wrist action should choose an oversize or midsize putter grip. This size allows you to control the stroke efficiently.
Players who enjoy more feel and use a lot of wrist movement should use a smaller putter grip. They allow the most allow for feel and feedback.
Round or Ribbed Technology

Round grips are smooth the entire way around. Ribbed grips have a ridge along with the grip. It is used as a reminder of grip placement.
Decide how heavy you want your putter grip to be. The weight affects the weight of your swing and how much force you will use. Certain grips have a counterbalancing effect that puts more weight on the top end of the grip.
Counterbalance putters move the balance point closer to the hands, making the head feel lighter and swing easier.
Putting Distance Control
Certain putter grips provide a better feel for the ball, improving distance control. Thinner grips give more feedback and a better ability to judge the speed of the ball. Firmer material on the grip also offers greater feedback.
Putting Accuracy
Putting precision is extremely important if you want to hit your shot. Oversized and non-tapered grips are very popular for increasing putting accuracy.
Key Features and Characteristics
There are a few different grips you should consider.
Velvet Golf Grips
Velvet golf grips consist of rubber which has a comfortable feel. They are great in wet conditions and draw moisture away.
Cord Grips
Corded grips provide a durable and sturdy grip along with excellent performance even if hands are sweaty.
Wrap Golf Grips
Similar to a rubber grip, it has indentations to increase grip. They don't perform as well in wet conditions and aren't the most durable grip.
Multi-Compound Construction Grips
These combine rubber and cord performance into one, providing an improved feel and responsiveness.
What to Avoid
Watch out for grips that will wear quickly. You don't want to be constantly changing your grip. Many grips will discolor with use over time. If you are concerned about this, don't get a light color or consider one made from a more substantial material.
Avoid putter grips that do not have your size preference. It will affect your swing negatively, so it is better to find a different grip.
Pricing/Budget Considerations
Luckily, putter grips are pretty affordable and won't break the bank. Most range from $10-30. The Lamkin Deep Etched grip is inexpensive at around $10. All of the SuperStroke grips are more expensive at $30.
Reputable Putter Grip Brands
Here are some of the highest-rated and most used putter grip brands you should consider.
SuperStroke
SuperStroke launched their new line in 2009, intending to change grips and help golfers shoot lower scores. SuperStroke grips have been used to earn over $500 million in major championship events and PGA Tour events.
They state that they only launch a new grip if they believe it is better than the last.
Golf Pride
Gold Pride was founded by Thomas Fawick, who was the first to suggest that golf grips should be constructed from rubber rather than leather. Rubber grips provided an improved feel and durability, along with lighter weight.
Golf Pride grips are now used at 80 percent of the major, professional, and amateur competitions. Eato announced that its Golf Pride Grip Division was the most used putter grip brand at the 2017 Player Championships.
Conclusion
With so many different brands and grips available, it can be difficult to choose the best one. The grip significantly impacts your stroke and should be considered whether you are golfing for recreation or going pro.
The SuperStroke Slim 3.0 Putter Grip is the most popular grip used in the PGA Golf Tour as it relieves tension in the hands.
Your hands are the part that is touching the putter, so the grip must provide comfort and accuracy. Ensure you have followed this guide to choose the best putter grip for your needs.
Frequently Asked Questions
When considering what type of putter grip to use, you must make a few essential considerations.
Oversize putter grips are beneficial for beginners as they don't require as much consistency and recruitment from stabilizing muscles. A non-tapered grip is also a good idea as they improve accuracy.

Once a year or every 30-40 rounds is recommended. Worn grips don't do what they are meant to. They will not deliver a soft feel or provide good feedback if worn.

Also, consider cleaning grips after every few rounds to remove dirt and sweat and extend their life. Use soap and water.

Changing grips is a straightforward process that all golfers should learn. You will need:

Purchase a bottle of grip solvent as well. Secure the putter's shaft in the vice and use a box cutter to remove the old grip.

Use a cleaning solvent to remove the residue and glue. After the solvent dries, prepare a length of two-sided tape. It should be the length of the grip with an added inch. Place tape along the shaft, and the excess will be above the shaft's end.

The extra tape can be twisted and pushed down into the shaft. Spray solvent onto the new grip and tape. Push the grip onto the shaft of the putter. Let it dry, and it is ready.
More about Putters you might also like: